DSV launches air cargo bridge connecting China and the US
Charter Service from Shanghai to Huntsville to meet high demand for air solutions during COVID-19
3/2/2020

To support the need of capacity in- and out of China, DSV is positioning its charter network to offer customers 100% DSV controlled scheduled capacity.
Oriental Dixie Service | Charter Service from Shanghai to Huntsville
A new charter flight, our Boeing 747-8 freighter airplane is now in scheduled direct service the "Oriental Dixie Service" - between Shanghai in China and Huntsville (AL) in the US. It is in operation three times per week, east and westbound.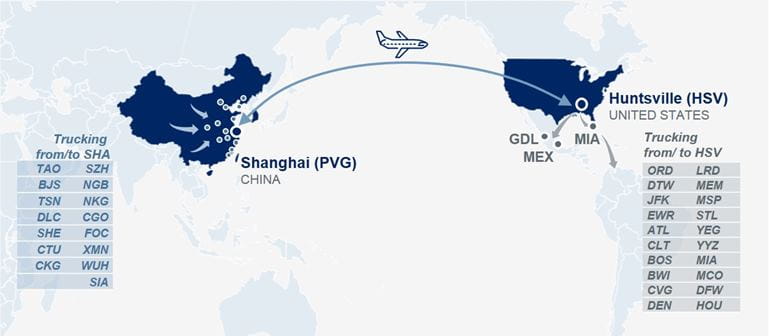 This unique service connects the US with China, and via the Huntsville Gateway hub and the Boeing 747-8 freighter also offers Express connections to/from Mexico and Latin America. With three departures a week, the transit time between the airports of Shanghai and Huntsville normally takes only one day. For other locations in China, cargo for exports can be consolidated at Shanghai by trucking. From the US, we can ship your cargo all the way to Mexico via trucking or express services. For locations in Latin America, transshipment can be done via Miami by flights and road feeder service.
The solution ensures that DSV will be fully in control of the capacity available on this charter solution. Taking advantage of the Huntsville hub and spoke model, we can connect all continents via our DSV controlled charter network and ensure DSV ground handling at uncongested airports. In Huntsville, express connections are available to and from Latin-American countries and Canada.

Any questions?
Our experts are ready to help. Get in touch and we'll find the solution you need.