Ship your cargo from Far East to the West by Rail
Rail between China and Europe

Due to the COVID-19 outbreak and the resulting blank sailings and cancelled flights, Chinese ports and airports are congested.
Rail transportation is a feasible alternative to sea or airfreight. Rail is ideal for businesses whose goods have a lifespan that is too short to allow shipment by sea. It is also interesting for low-margin products where air freight is too costly.
FCL from China to Europe
For full container loads (FCL), there are two main routes for freight trains, with a number of sub-routes. The southern route through Kazakhstan and southern Russia is the most suitable for freight to and from south and central China, for example the regions surrounding Chengdu, Chongqing and Zhengzhou. The northern route through Siberia is ideal for container transport for the northern regions around Beijing, Dalian, Suzhou and Shenyang. In Europe the most important terminals are Duisburg and Hamburg in Germany.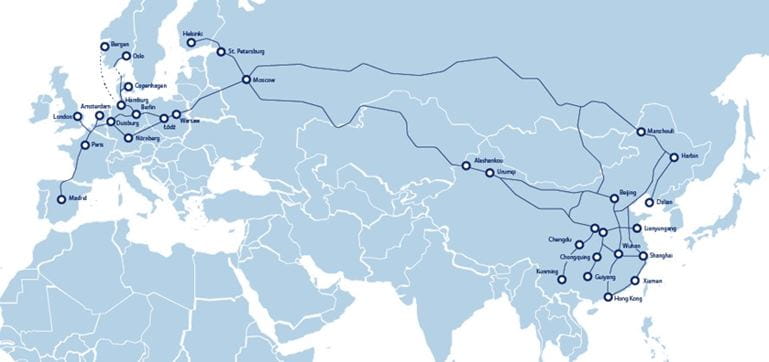 LCL from China to Europe
In addition to full container loads (FCL), less than container loads (LCL) is also available and we have our own DSV consolidation services for westbound and eastbound trains.
We provide 3 weekly direct LCL services from South China to Europe:
• From CFS Yantian, Shenzhen via Chongqing to CFS Aarhus, Denmark
• From CFS Yantian, Shenzhen via Chongqing to CFS Duisburg, Germany
• From CFS Yantian, Shenzhen via Chongqing to CFS Warsaw, Poland
When controllable schedule means better planning
Pre-carriage from Shenzhen to Chongqing normally takes around 1 week. The rail journey from terminal to terminal currently is between 15 and 18 days from Chongqing to Europe, with additional 3-5 days on carriage to the destination Container Freight Stations (CFS). Regular schedule and stable transit time gives you more control in a volatile market.
Any questions?
Our experts are ready to help. Get in touch and we'll find the solution you need.