Due to the COVID-19 outbreak, a number of flights and vessel departures have been cancelled by airlines and carriers. Rail transportation is a feasible alternative to sea or airfreight.

Rail is ideal for businesses whose goods have a lifespan that is too short to allow shipment by sea. It is also interesting for low-margin products where air freight is too costly. To provide customers with flexible transportation options, DSV offers both FCL and LCL rail services connecting China and Europe.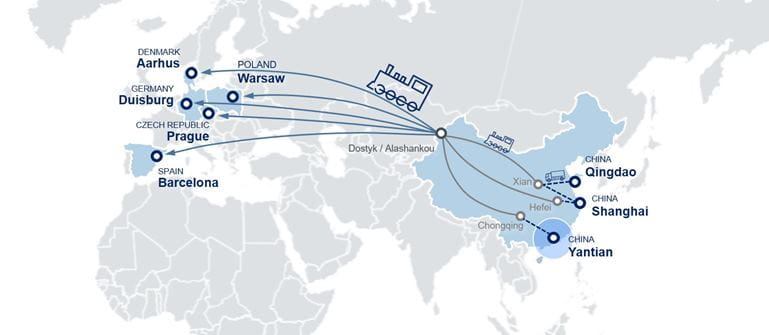 Our direct LCL rail services with weekly DSV consolidation box from China to Europe covers various origins across the whole China:
Central and North China (CFS - CFS)
From Shanghai & Qingdao to Aarhus, Denmark
From Shanghai to Duisburg, Germany
From Shanghai to Warsaw, Poland
From Shanghai to Barcelona, Spain
From Xian to Prague, Czech Republic
South China (CFS - CFS)
From Yantian, Shenzhen to Aarhus, Denmark
From Yantian, Shenzhen to Duisburg, Germany
From Yantian, Shenzhen to Warsaw, Poland
The rail journey from CFS to CFS currently takes between 17 - 29 days from China to Europe. DSV's dedicated rail team provides pre-carriage service from factory to rail station and on-carriage service to final consignee's door with our trucking network in Europe.

Key advantages of DSV Rail Direct LCL
Seamless Service

DSV controls and manages all operations on both ends.

Security

Highest security standards.
GPS monitoring on request.


Customs Service

Full customs service coverage, i.e. final customs clearance / T1.

Individual Pricing

Individual pricing for regular customers with best-in-class service.

Any questions?
Our experts are ready to help. Get in touch and we'll find the solution you need.