DSV plants the first tree in Tholen
DSV Solutions and the Municipality of Tholen have planted the first tree on the Welgelegen III industrial estate for the construction of a new circular distribution center.
18/10/2019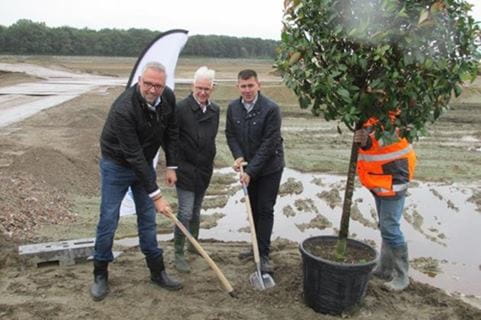 On Friday, October 11, Bas Fraanje (Senior Director, Southwest Netherlands, DSV Solutions Netherlands B.V.) and Frank Hommel (Alderman for Economic Affairs, Municipality of Tholen) planted the first tree on the Welgelegen III industrial estate in Tholen in the presence of many guests. The reason for this memorable moment is the start of the construction of the new distribution center of DSV, which will have around 90,000 m2 at its disposal here for its clients. The new DSV distribution center is being realized by Unibouw from Gemert. Unibouw will take full responsibility for the circular construction and ensure that the first tree has a beautiful place in the Breeam garden.
Bas Fraanje says on behalf of DSV: "We are very pleased with the pleasant cooperation between the Municipality of Tholen, DSV and all stakeholders in this. Since the end of June we have been able to take the right steps together to achieve our common objectives." Frank Hommel is also very satisfied on behalf of the Municipality of Tholen:
Short lines of communication and efficient work by all parties involved means that together we have this impetus to realize the employment of Tholen.
Any questions?
Our teams in DSV Solutions are ready for you.