DSV once again number 1 in fulfilment in the Emerce100
A 6 star rating from the industry for DSV Multi-Channel Fulfilment
29/04/2021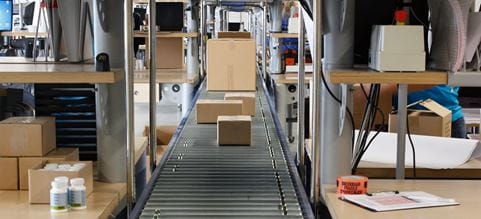 For the seventh consecutive year, DSV Multi-Channel Fulfilment has achieved a top 3 ranking in the Emerce100 fulfilment warehousing category. For the year 2020, DSV was again chosen as number 1; a unique performance that none of its peers has delivered so far.
In this edition of the Emerce100 DSV achieved a well-deserved first place with a 6-star rating from the market. Peter van der Maas, Executive Vice President DSV Solutions Benelux, is very proud of the trust of the customers and the achievements of the entire team:
The unbridled commitment of the entire team in favour of our customers is rewarded again. In the special year 2020, they more than lived up to the trust of our customers and showed that they deliver a unique performance year after year. We are now once again chosen as number 1 by the market, which we greatly appreciate.
Emerce100 is a quantitative image research conducted by Motivaction on behalf of Emerce. The target group of the research consists of readers of Emerce who use e-business companies. The respondents came from Emerce's address database and from relevant respondents from the StemPunt panel. In the period from November 11 to November 29, 2020, 76,301 people were invited by email to participate in the survey and 10,840 invitations were sent to StemPunt respondents. A total of 1,481 respondents completed the survey, a record! The relevant companies were all assessed on the four criteria: "knowledge / know-how", "price-quality ratio", "reliability" and "flexibility". More information about the research can be read here.
Any questions?
Contact Erwin Peeters, our press contact.