Do you join the #1 in logistics?
Fast growing DSV is looking for hundred new colleagues
14/06/2021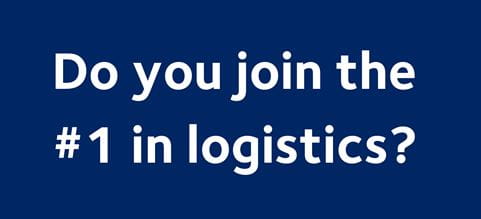 Due to the rapid growth through new customers and growth among existing customers of DSV, DSV is looking for hundred new colleagues at all its locations. From Eindhoven to 's-Heerenberg, from Schiphol to Tholen, from Venray to Bergen op Zoom, from Venlo to Amsterdam and from Groningen to Moerdijk, there is a need for motivated new colleagues.
Your career at the #1 logistics service provider in the Netherlands?
People are at the core of who we are - the drive, talent and devotion they bring to us every day are what makes DSV the exciting place it is. It's a dynamic and fast-moving environment with rapid decisions at every level – where ambition meets teamwork in an effort to face challenges, succeed, move forward and to make a difference for our customers.

As the number 1 logistics service provider in the Netherlands, we offer good career opportunities to the right people. We think it is important that our employees enjoy going to work and make an active contribution to this through training programs, staff outings, (regional) events such as the DSV Soccer Cup and/or DSV VenloStormt. Our employees always receive the right training to further develop professional competences. We are always looking for people who want to make a difference and who can add value to our organization. The qualities we value are involvement, responsibility, professional skills and the ability to share knowledge. In addition, you must have the ability to create results and we attach great importance to flexibility and willingness to change, in which the customer is central in everything.
On the one hand, DSV is looking for new colleagues for its Air & Sea, Road and Solutions divisions in operational professions such as warehouse employee, order picker, forklift driver and reach truck driver on a full-time and part-time basis. On the other hand, we have vacancies in our Customer Service and Freight Forwarding departments in our branches in the Netherlands. But I also cordially invite students who are looking for a well-paid part-time job to apply for a job with us.
explains HR Director Walter de Wilde.
Applying at DSV is easy.
Sending an E-mail via werkenbij@nl.dsv.com to our recruiters Jeroen de Wit and Michelle de Waal with your wishes is sufficient. They will then contact you. You can also call them on 06 – 82 29 75 57. The complete vacancy overview is available online at www.dsv.com/werkenbijdsv.
Any questions?
Contact Erwin Peeters, our press contact.