DSV and New Balance expand collaboration
Since 2005, DSV and New Balance Athletics, Inc. have worked together on multiple distribution facility projects to support the growth of New Balance's European business in EMEA. Now, the collaboration is being expanded significantly, and the millions of shoes and pieces of clothing that DSV is already storing and distributing for New Balance per year, is now being tripled.
03/11/2021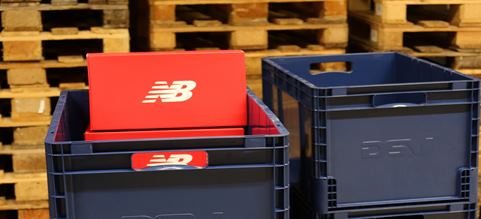 DSV and New Balance have agreed to expand their long-standing collaboration. With the new agreement, DSV triples the volume stored and distributed for New Balance in EMEA. To accommodate this significant increase in volume, a tailor-made and automated 60,000 sqm warehouse facility in Venlo, NL, has been upgraded and is now inaugurated.
I am pleased to announce the extension and expansion of our collaboration with New Balance in EMEA, which is a long-standing customer to DSV. The new agreement is an acknowledgement of our committed employees and the investment in a state-of-the-art automated setup that we have developed with New Balance on warehousing and distribution. The new tailored setup for New Balance in EMEA favours high customer satisfaction and enables both parties to grow the partnership even more in the future,
says Peter van der Maas, Executive Vice President, DSV.
New Balance, headquartered in Boston, MA, has the following mission: Demonstrating responsible leadership, we build global brands that athletes are proud to wear, associates are proud to create and communities are proud to host. New Balance owns and operates four factories in New England and one in Flimby, U.K. New Balance employs more than 7,000 associates around the globe and in 2020 reported worldwide sales of $3.3 billion. For New Balance, the expanded collaboration enables them to meet the increased demand in EMEA. Mathias Boenke, Senior Vice President EMEA for New Balance, explains:
The consistent quality and reliability of DSV have led us to further expand our work with them to keep pace with the changing needs of our consumers. DSV's tremendous work and our continued investment in their logistics and warehousing capabilities, especially throughout the COVID-19 pandemic, positions New Balance EMEA to meet our ambitious growth goals.
Efficiency through tailored automation and 'goods-to-person' methods
DSV and New Balance have worked closely together to update DSV's existing Venlo warehouse facility which has now been tailored to accommodate the significant increase in volume for New Balance. The new setup is made to ensure a high capacity as well as a flexible shuttle system for storage and retrieval, so the millions of extra pieces of goods that DSV will be managing for New Balance can be distributed efficiently from the warehouse to all parts of Europe.
An impression of the automated warehouse in Venlo.
DSV's partner, Austrian KNAPP, is an advanced developer of intelligent automation solutions and has been the supplier of all automated and mechanised installations at the 60,000 sqm warehouse facility.
In our new warehousing setup, we are utilising state-of-the-art storage and innovative warehouse automation elements to meet the specific requirements and needs of New Balance and their customers. By including the new automated processes and 'goods-to-person' methods we increase efficiency, especially by being able to dedicate the resources of our professional staff to the most complex tasks at the warehouse and letting the automated solutions take care of the simple ones,
says Peter van der Maas, Executive Vice President, DSV.
About the updatedwarehouse in Venlo
| | |
| --- | --- |
| Total size of warehouse | 60,000 m2 |
| Size of pallet storage area | 40,000 m2 |
| Size of ASRS (Automatic Storage and Retrieval System for 241,000 bins) | 90,000 m3 |
| Total length of conveyor belt in the warehouse | 6,4 kilometers |
| Number of onsite goods-to-persons stations | 16 |
| Construction start | Q1 - 2020 |
| | |
Any questions?
Contact Erwin Peeters, our spokesman and Manager Marketing & Communications.