Chinese New Year 2022: prepare your business
Chinese New Year (CNY) is an annual event with far-reaching consequences in the world of logistics. In the period around the celebrating of CNY, Chinese factories, main ports, and government institutions come to an almost complete standstill. Logically this has its consequences for the available transport capacity in the country. We expect the impact of CNY to be more extreme than previous years. The experts at DSV Air & Sea share a clear message: please prepare yourself well.
06/12/2021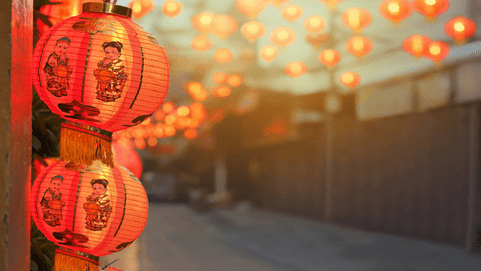 What is Chinese New Year?
Chinese New Year (CNY) is also known as the Spring Festival or Lunar New Year with which Chinese people celebrate the new year. CNY starts this time on February 1, 2022 and with all the festivities it can last until February 15! Due to the length of the festivities, CNY is one of the most prominent events on the Chinese calendar and has a major impact on all international trade. During CNY most activities in the country are shut down, however the impact of this national holiday is felt way before and after this holiday as well.
In China many people will return to their birth places across the country, to celebrate CNY with their families. Every year this tradition has a lot of impact on factories, main ports, and the local Chinese government. We notice this every year from about a month before CNY until long after the end of the festivities. You can easily add a month to the official CNY dates,
explains Hanneke van Gastel, Sales Manager DSV Air & Sea Netherlands.
The right preparation will count
The situation will be uncertain in the coming months. Because the magnitude of the impact and the current regulations regarding COVID-19 are probably not clear before CNY. We are again likely to face unprecedented challenges. "Normally CNY is a break in a busy period for us", says Hanneke. "But now it's an extreme factor in a market that's already turned upside down. Given the different circumstances, I expect a tough period for us.''
Due to the extreme circumstances, a good preparation for CNY is perhaps more essential than ever. Eef de Kovel, Key Account Manager DSV Air & Sea Netherlands recommends at least the following points:
Many Chinese suppliers plan a production stop for two to three weeks in the run-up to CNY. At first whenever possible, always try to plan ahead to avoid a 'last-minute' scenario. In addition, it can definitely be to your advantage to plan for a longer period and base your inventory management on that. More inventory may makes it easier to keep your business during that busy period. Also a good relationship with your Chinese suppliers can be vital right now. During this period, there is usually an enormous pressure on your suppliers after which many suppliers start to prioritize in the handling of orders. That's why I recommend that our customers invest time and energy into their suppliers all year long. Build on a good relationship and even have multiple suppliers if possible. Finally, we tell our customers to plan ahead, to plan differently than before if possible and to continue to invest in the relationship with their suppliers. This will only work if logistics become an integral part of their planning. We can help to achieve this.
An extreme situation
Every year, a lack of manpower due to CNY causes capacity problems such as: blank sailings, flight cancelations and extended transit times. For the coming year this is expected to be even more extreme as several new circumstances will further complicate this situation in 2022.
The most prominent of these conditions are the global congestion, COVID-19 measures, massive power curbs and the upcoming Olympic Winter Games in Beijing.
The global economy is facing an enormous challenge, especially with supply changes under increasing pressure. An important reason are the current problems within the infrastructure of the United States, where it is no longer possible to keep up with the increasing demand for freight. The approaching CNY can only worsen this situation. According to Hanneke, the impact of CNY on the current market situation cannot be underestimated: "It is obviously that the temporary standstill of a defining country like China will affect all trade routes. With the current state of the global economy, that may well lead to further widening worldwide shortage."
With COVID-19 in mind, Eef emphasizes that it is impossible for now to say what the impact of the virus will be in the coming months. But he recognizes that the consequences could be serious if the situation worsens: "From what we know now, there are currently a little number of known COVID-19 cases in China. Should this situation change for worse, the countermeasures of the Chinese authorities will probably also mean that all transport activities in affected areas will be shut down. We've seen that happen before, so it is a very real concern for us right now."
Power curbs and the Olympics
In Q3 of this year, China introduced power restrictions in some parts of the country, so called 'power curbs'. This is a measure to reduce CO2 emissions in the country. This could have a significant impact on the country's production for the coming months. In some regions these power curbs have led to factories partially or even completely shutting down production. This situation has improved in the past months, but it is unclear what this will look like in the future.
The Olympic Winter Games will take place in Beijing in 2022, it is still unclear what the implications of this event will be. Also, because the Chinese government has not yet made an official plan of action public. What is clear is that the security level in the country will be significantly increased, which in return will have consequences for international (air) ports.
Despite this exciting time, Eef is looking forward with confidence to the coming edition of CNY. "The industry in which we work is challenged and we don't know when it will get better. The best we can do for now is prepare and be ready to think in alternatives. Basically, just what a good forwarder always does."
DSV China will be closed from January 31 to February 6. To compose this, extra working shifts are planned on Saturday January 29 and Sunday January 30.
Any questions?
Our teams in DSV Air & Sea are ready for you.