DSV launches employer branding campaign in the Netherlands
Our colleagues tell our story. What does DSV stand for? What happens in those big grey warehouses and offices? Which customers does DSV serve? Is DSV an attractive employer? What kind of jobs are there in transport and logistics?
31/08/2022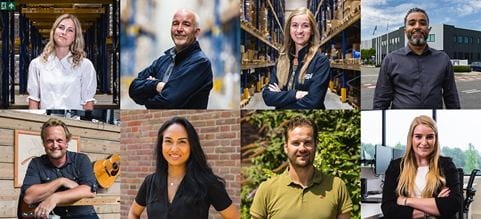 With a team of colleagues from all divisions and branches in the Netherlands, DSV has answered these questions for the Netherlands. This team also extensively researched what DSV in the Netherlands stands for, what working at DSV means, which new colleagues DSV is looking for in the short term but certainly also in five years' time, and what is needed to bind colleagues to the company and offer them every opportunity for further development.
The results of their research have been translated into a clear employer value proposition (EVP) with a choice for five core functions for now and in the future, namely: engineers, supervisors, team leaders, freight forwarders and customer service representatives. To support this, the function groups hr, sales, quality, customs and finance were fully mapped out.
#moveforward
Moving forward is at the heart of DSV's DNA. Starting from a critical approach, there is a constant business case driven focus on growth. Common sense and working from the culture of a family business are central to this, where every colleague is constantly stimulated to think and act as an entrepreneur.
We believe that people can reach their potential when they take ownership of their own career. That is why we give you every opportunity to do just that,
says Walter de Wilde, HR Director.
In addition, DSV moves forward with its employees by listening to them and offering them fringe benefits such as home working arrangements, the generation pact, an electric lease bike, discount sites and programmes aimed at sustainable employability.
Watch here how the campaign was made
Employer Branding
Based on its employer value proposition and insight into DSV's short and long term staffing needs, DSV entered into a partnership with MrWork. Through their unique recruitment marketing software, DSV is able to load its employer brand in a targeted way, boost its vacancies and increase the number of leads and applications.
The cooperation between DSV and MrWork ensures a structural visibility of the employer brand of DSV with the most important five target groups through intelligent marketing campaigns. The technology of MrWork enables DSV to build talent pools of interested candidates and increase the conversion of their career page to applications,
says Jaap Konter on behalf of MrWork.
For the creative interpretation DSV called on its regular partner Capture Rebels in Eindhoven. Together with the Marketing & Communications department of DSV, they created short, clear videos that were recorded at locations of DSV. The message was conveyed by colleagues within DSV, sometimes together with DSV customers.
Together with DSV, we succeeded in transferring our job satisfaction to the DSV employees, which allowed us to create energetic and unique content. Our strong partnership with DSV once again gave us the freedom to unleash our creativity and expertise on this project. This, in combination with DSV's knowledge, has led to the realisation of high quality content for this Employer Branding campaign,
says Craig Lowrie on behalf of Capture Rebels.
The result is an employer branding campaign in which our own people tell our story, which will go live in the beginning of September.
Any questions?
Contact Erwin Peeters, our press contact.