Chinese New Year 2023
We are on the eve of Chinese New Year (CNY) 2023: what can you expect? And can you prepare for any implications for your supply chain?
23/12/2022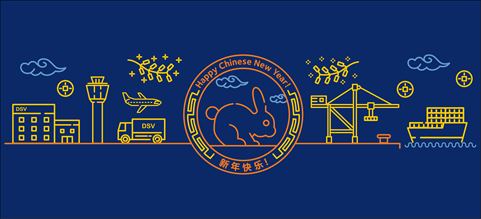 What is Chinese New Year?
Chinese New Year (also called Spring Festival) marks the new year in China and large parts of the Asian world. Unlike in the Western world, this day does not fall on 1 January, and a longer period is set aside for festivities.

CNY this year begins on 22 January 2023 and will last until 5 February. Due to the length of these festivities, plus the necessary days before and after the celebration, the impact of Chinese New Year is huge every year. Not just in China, but across the Asian continent. This year we are celebrating the year of the Rabbit.

The weeks of CNY are traditionally celebrated with relatives in the village or town of origin. As there is relatively high traveling within China's own borders, the weeks before and after CNY generate a lot of travel traffic within all provinces. Factories, offices, (air) ports and government institutions come to an almost complete standstill during these weeks. And restarting normal work life after these holidays also takes a long time due to the massive domestic travel traffic.
What can we expect from CNY 2023?
Previous editions of the CNY still had to deal with strict COVID-19 restrictions, with travel to the village or town of origin, for instance, being tightly restricted. This year, the Chinese government is loosening the strict COVID-19 rules for the first time, which is expected to trigger a much more massive travel movement. In the process, experts expect the number of COVID-19 infections to rise sharply, after which the likelihood of lockdown of major (port) cities, for example, will also increase again.

As Manager Procurement Seafreight for DSV Air & Sea Netherlands, Eef de Kovel is like every year busy planning around Chinese New Year. He has an advisory role for his customers, keeping in close contact with his counterpart in China. Eef explains:
Our colleagues at DSV in China expect a shortage of truck drivers for inland transport due to the loosening of COVID-19 restrictions.
This is twofold: many drivers will take advantage of the freer travel opportunities, only to return later due to COVID-19 infections, for example. And many will not even return at all and stay with their families. That was something you used to see often around this period.

Furthermore, our colleagues expect an increase of at least 10% in the number of blank sailings from China. But due to the uncertainty in the ocean freight market, a real CNY peak is unlikely this year. Products will remain longer in warehouses and consumer confidence is still in a slump. Consequence: sea freight demand around this period has become less relevant.
How to prepare
Although the impact of CNY this year may be different from previous years, you can still prepare somewhat. Contact your suppliers well before the start of CNY and make proper arrangements about accessibility and deliveries around this period.
This will prevent wrong expectations and therefore disappointments afterwards,
says Eef de Kovel.
DSV China will be closed from 21 January to 27 January, work will resume from 28 January. For any questions about CNY, please refer to your regular commercial or operational contacts within DSV Air & Sea.
Any questions?
Our teams in DSV Air & Sea are ready for you.