DSV teaches at Scheepvaart & Transport College in Rotterdam
From 23 January to 17 February 2023, DSV Global Transport and Logistics will operate at the Scheepvaart & Transport College (STC) in Rotterdam. In the 'Soft Skills Lab' a practical classroom, an office garden, workstations, meeting rooms and reception area have been simulated. Within this period, these are completely in DSV corporate identity. During four weeks, various DSV managers give guest lectures on a variety of subjects, including presenting.
25/01/2023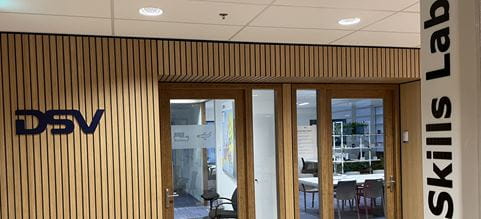 For over thirty years, the STC has been providing education, in the Rotterdam region, at vmbo, mbo and hbo level in the field of transport and logistics. Varying from training to truck driver, freight forwarder and logistics supervisor. As a practice-oriented vocational school, STC works in close cooperation with many companies in the sectors. It educates - through internships, training, retraining and refresher courses for professionals and by jointly working on innovations.
The experiences with STC trainees are very positive. A major focus in internships and entry-level positions is the social part compared to the professional knowledge and experience. Young people today sometimes find social parts of the job difficult. Such as what to do when faced with an unfamiliar caller in a language other than Dutch or just the 'social talk' with a customer on the phone or a colleague on the working floor. In other words, with everyday social skills, to be summarised as soft skills. This was the reason for the STC to do something with this. Namely, to set up the Soft Skills Lab.
DSV has been working closely with STC's logistics courses for many years. Several current employees started at DSV via an internship and have now been working at our organisation for years, from starters to managing directors. For the next four weeks, a teaching programme has been set up on topics such as which Incoterms® to use for various transports and data analysis using current shipment data. Employees of DSV are present at the STC location in Rotterdam-Waalhaven to give the guest lesson several times. In the first week, 75 students will be guests at DSV's Dordrecht branch, divided into three groups, to attend various presentations given by employees of DSV Road and DSV Air & Sea.
At DSV, we want to help prospective colleagues grow further, both in knowledge and skills, partly through internships. How cool to do that now in the Soft Skills Lab,
says Herman Huijgens, Managing Director, DSV Air & Sea Netherlands and former STC student.
After intensive preparations between DSV and the STC, both parties are enthusiastically looking forward to the next four weeks. To teach all students in the Soft Skills Lab not only practical logistics knowledge, but also soft skills in an interactive way. So that, after these four weeks, the students know what to do in the future and can start practising it at an organisation like DSV. Because together - as employer and educational institute - we work on the future.
Dyana Babic, Project Leader Soft Skills Lab at the STC says:
With our Soft Skills Lab, we help our students with the right awareness and how to behave at an internship or work for a company. To give them the right direction in the logistics profession, so that they can enter an internship prepared. The open communication with DSV is very nice in this. We ask for help for our students and DSV not only opens its doors but helps the students and us.
About the STC Group
STC Group is the vertical educational and knowledge institution for shipping, transport and port industry. STC Group also provides courses and training for professionals. STC Group operates internationally and has locations at home and abroad. Its head office is located in mainport Rotterdam. For more information, please visit www.stc.nl.
Any questions?
Contact Erwin Peeters, our spokesman and Manager Marketing & Communications.