Jeroen de Wit voted Most Influential Corporate Recruiter in 2022
For the 14th time in a row, this year's election of the "Most Influential Recruiter" was held. During this annual election, nominated recruiters compete for the coveted honour of becoming the most influential recruiter of the year. On Friday 27 January, both the winners of the Audience Award and the winners of the Jury Award were announced at a festive Award ceremony.
28/01/2023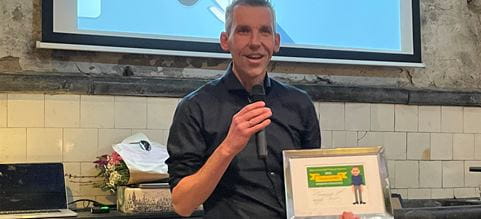 Most Influential Recruiter 2022 announced (#MIR2022)
This is the sixth year that both an Audience Award and a Jury Award were awarded. Nominees indicate themselves whether they want to be considered for the Audience Award, the Jury Award or both. The Audience Award goes to the nominated recruiter who obtained the most votes overall, in addition, there is also a winner per category (Agency, Corporate, Interim, Talent, Sourcer, Recruitment Marketing and Recruitment Team). In the Corporate category, it was exciting for a long time, but Jeroen de Wit, Corporate Recruiter at DSV Global Transport and Logistics finally obtained the most votes.
Jeroen is enormously active every day to find new employees for DSV in the Netherlands together with his fellow recruiters. He is not afraid of any challenge within his field in order to finally be able to ask that one question as much as possible: "Would you like to become my new colleague at DSV?". For Jeroen, this is the proverbial icing on the cake that continuously feeds his energy. Of course, preceded by constantly telling on the outside how much fun it is on the inside at DSV. Via personal conversations or, for instance, via his vlogs on LinkedIn. Or as Jeroen puts it himself:
I am very proud to be chosen as Most Influential Recruiter in the Corporate category. I feel very appreciated and hereby thank all the people who voted for me. Super nice!
Walter de Wilde, HR Director of DSV in the Netherlands, is extremely proud of Jeroen on behalf of DSV. In line with the development within the labour market as written by Emploit on its Most Influential Recruiter of the Year website, 2022 was also a special year for DSV. As DSV, we are therefore delighted that Jeroen de Wit managed to be chosen this year as Most Influential Corporate Recruiter:
As a Corporate Recruiter, he always knows how to draw attention to DSV in a creative way, for the benefits of DSV. So this recognition is very much deserved! This year too, we will absolutely need his qualities to fill our vacancies together with his fellow recruiters!
About the "Most Influential Recruiter" election
The election "Most Influential Recruiter" is an initiative of Bas Westland, editor-in-chief of the blog EmploIT.nl. The election has been held annually since 2009. For more information, visit www.emploit.nl.
Any questions?
Contact Erwin Peeters, our press contact.