Load pallets stable and sustainable without wrapping foil?
DSV is looking for the innovative power of SMEs and start-ups
27/02/2023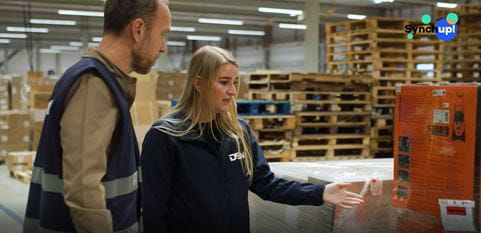 For quite some time, DSV is launching various initiatives and projects to minimise the organisation's environmental impact at all its locations. One of these initiatives focuses on the wrapping foil used by DSV. This is a stretch foil that is used only once for securely wrapping a pallet containing cardboard boxes. Upon receipt and unpacking, the foil is either discarded or recycled. DSV wants to redesign this process in a sustainable way.
What is DSV looking for?
DSV receives, packs and ships products for its customers. These products are contained in cardboard boxes of varying sizes, which serve a functional as well as a decorative role and must therefore remain undamaged. DSV frequently uses wrapping foil to transport pallets safely and in a stable way in which pallets are a standardised tool for transporting goods. Products are stacked onto the pallet and then wrapped with foil to ensure stability, safety, handling, and protection.
The pallet must remain stable throughout its journey which means that after loading and transport, it must be delivered to the customer in its original form (straight stacked pallet containing boxes). It also needs to be easy to unpack without damaging the boxes. The pallets usually do not need to be waterproof. This is only necessary in exceptional cases; in which case a top foil will be applied.
When DSV receives goods (= inbound), wrapping foil is released at DSV. This foil is currently disposed of in pressurised containers and then recycled at a partner. When sending goods (= outbound), wrapping foil is also used. On top of that, some goods are repacked by DSV and therefore sent out with new wrapping foil.
DSV believes that all used wrapping foil is a very large source of pollution. Replacing plastic wrapping foil with a completely sustainable and functionally equivalent alternative solves the problem at the source.
We recognize our role as one of the world's leading transport and logistics companies and have raised our ambitions to reach net-zero carbon emissions across all our operations by 2050. Replacing plastic wrapping foil with a sustainable alternative with the same functionality, is fully in line with these ambitions,
says Peter van der Maas, Executive Vice President, DSV Solutions.
The challenge programme
The opening period for this challenge ends on March 31 at 5:00 PM. Before then, interested SMEs and start-ups, but also freelancers and scientists can find all the necessary information and submit their pitch on the SynchUp! website.
SynchUp!
SynchUp! is an initiative of REWIN West-Brabant. REWIN works on these challenges together with BOM, Port of Moerdijk, Municipality of Breda, Ministry of Economic Affairs and Climate, PNO Consultants, Province of North Brabant, and Region of West Brabant (O&O Fund). The aim of the collaborating partners: to offer SMEs and start-ups serious innovation and business opportunities, and to accelerate and add value to new knowledge and/or technology. For a stronger circular economy in the regions concerned. For more information, visit www.synchup.nl.
Any questions?
Contact Erwin Peeters, our press contact.