DSV donates fruit trees to its customers on 21 March
Sustainable and biodiverse gift at initiative of employees in Southwest Netherlands in the Solutions division
21/03/2023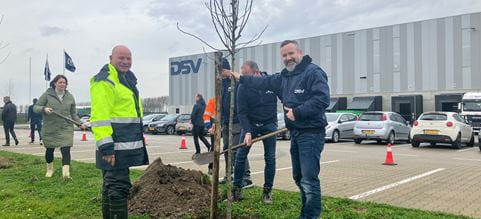 Awareness of sustainability is growing within all ranks of DSV Global Transport and Logistics and among new generation employees driven by sustainable ambitions. So also, in the Southwest Netherlands region within the Solutions division. Here, initiatives are proposed within the Sustainability Team to work step by step towards a better world. This involves looking at current business processes, which could possibly offer the same or better results in a sustainable way.
A fruit tree as a New Year gift
In recent years, dozens of New Year gifts were sent every year to our customers in all parts of the world. The Sustainability Team saw an opportunity here to end the possible throwing away of New Year gifts on the one hand and the polluting transport required for this on the other. From a joint brainstorm, it was decided to offer every customer a fruit tree as a sustainable gift on 21 March, on UN Forest Day. This idea was presented to the regional Management Team, which was immediately enthusiastic.
Planting fruit trees at the initiative of our colleagues fits perfectly within our sustainability goals and at the same time they are a nice base for our bee colonies here in Tholen,
said Bas Fraanje, Senior Director, DSV Solutions.
After the internal agreement, the idea was shared with several colleagues in which very relevant additions were made. This led to the final choice of fruit trees, which also make a positive contribution to the vegetation of the bee colonies living on the grounds of our warehouse in Tholen. By placing the fruit trees on our own premises in the BREEAM garden created for this purpose, the fruit yield will be consumed by our colleagues working here. In addition, this garden provides more than enough space for the initiative to continue planting fruit trees in the years to come.
All customers have now been informed in this and they unanimously responded with tremendous enthusiasm. The same enthusiasm was shared by the gardeners of WVS Greenkeeping in Roosendaal. The gardeners have completed the preparatory work and today, on UN Forest Day, several employees from our Tholen warehouse made a very active contribution to the planting of the fruit trees, of which they themselves will finally pick the fruits.
Any questions?
Contact Erwin Peeters, our press contact.