DSV expands US operations and launches new air charter routes
DSV has established new operations at Phoenix-Mesa Gateway Airport, with two new charter routes and its own airport hangar and ground handling equipment. Our goal: to further support DSV's customers within the fast-growing semiconductor industry in Arizona, and to expand our cross-border services to Latin America.
06/04/2023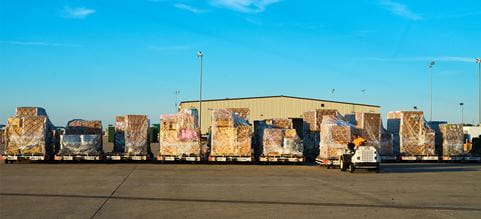 The new operations at Phoenix-Mesa Gateway Airport have strengthened DSV's network in the US and provide additional capacity options to better meet our customers' needs. This allows DSV to move its cargo more efficiently and offer customers additional control and flexibility over their shipments.
The addition of the Phoenix-Mesa Gateway Airport charter to our network within DSV gives us a serious advantage over our competitors. The timing is right for this market and DSV is leading the way. Offering freighter capacity with the ability to exclusively manage ground handling significantly enhances the growth opportunities - not only for DSV but also for our customers. This allows us to respond to growing demand for services with first-class customer service,
explained Niels Larsen, President DSV Air & Sea US.
New Air Charter routes
DSV's two new air charter routes connect Arizona to Europe and Asia and will launch regular scheduled flights later this spring. As an integrated part of the charter hub, the new routes will be a particular advantage during busy periods and congestion at other major hubs, where charter service will provide predictability, capacity, and reliability. To support this, Phoenix-Mesa Gateway Airport will be equipped with DSV handling equipment in a dedicated hangar where chartered DSV flights will receive fast and efficient ground handling.
"DSV is the first transport and logistics provider to have a cargo aircraft at Mesa airport as standard. So far, we have conducted two test flights on the new routes, and everything has gone according to plan," explains Tina Larsen, director of project management, she adds:
"A big advantage for our customers is that DSV is the only company in the area with the ground equipment needed to operate a cargo aircraft. Moreover, the on-site hangar houses the equipment that allows our handlers to operate the flight as soon as it arrives at the airport. The benefit of this service to the area is exponential. We reduce approach and recovery times while providing alternative routes to congestion."
Arizona: strategically important
In recent years, the state of Arizona has become an increasingly important transport and logistics hub. Its proximity and favourable transport links to Latin America, and the development of industrial centres for a number of vertical sectors, in particular the semiconductor industry, have all contributed to its growing status and strategic importance for DSV.
"The industrial developments we are seeing now in Arizona are quite significant. This makes it a strategically important place for us, which is why we are now expanding our operations in the area through the new air charter routes," Lars Nielsen said. "This new service offering allows DSV to offer more routes to LATAM and Mexico. Moreover, the Mesa airport responds perfectly to our strategy of using so-called tier two airports to avoid long transit times, further there is a strong strategic interest for our ability to serve customers in the semiconductor segment."
These new developments within of DSV gained momentum with the recent agreement to acquire S&M Moving Systems West and Global Diversity Logistics. These acquisitions go hand in hand with DSV's operations at Phoenix-Mesa Gateway Airport and the expansion of air charters in Arizona.
Any questions?
Our teams in DSV Air & Sea are ready for you.