DSV Road Venlo relocates by May 15, 2023
Cross-dock and offices at Malcom McLeanstraat 2 commissioned
04/05/2023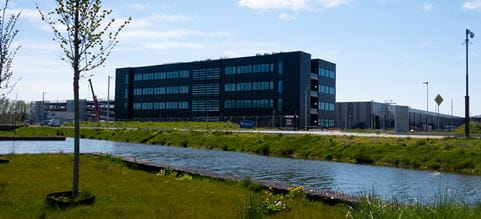 DSV continuously grows in a sustainable way by building new buildings close to its customers in locations where all divisions are located together as much as possible. This enables DSV to provide its target groups in the long term with state-of-the art warehousing, distribution and Value Added Logistics suited to their specific needs.
Since 1992, DSV's road transport division has been located in Venlo at Tasmanweg on the Trade Port West industrial estate. In order to sustainably realise the growth ambitions of its customers and DSV, DSV Road will operate from 15 May 2023 at its new premises at Malcom McLeanstraat 2 in Sevenum in the Municipality of Horst aan de Maas at Greenport Venlo.

This Breeam Excellent certified facility, which includes 7,500 solar panels, has a TAPA-A compliant cross-dock of over 19,000 m2 with 128 docks, all facilities for ADR (hazardous substances) and temperature-controlled storage for the pharmaceutical industry. In addition, DSV will have access to over 7,000 m2 of office space spread over three floors with space for office relaxation in, for example, the indoor gym. The new occupants of these offices are the employees of the Road division, DSV Road Holding, the Shared Service Centre as well as the global management of the Solutions division including its staff departments. In doing so, DSV not only creates an environment that suits its work, but also a culture of connection, inspiration, trust, and autonomy.
This Breeam-certified expansion will enable us as DSV to sustainably realise our customers' growth ambitions and provide them with all the tools they need for the road transport of the future. It will also give a strong boost to employment and economic development in the region,
says Patrick van Ulft, Managing Director, DSV Road.
Right next to the Road division's state-of-the art facilities, a double-deck warehouse of over 34,000 m2 is currently under construction, complemented by over 8,000 m2 mezzanine and 33 docks. This Solutions division warehouse is expected to be commissioned in the fourth quarter of 2023.
The main changes for you are:
From 15 May 2023, DSV Road will carry out its cross-dock operations from the new business location;
From 1 June 2023, DSV Road, DSV Road Holding, and the Shared Service Centre will carry out all their business activities from the new business location;
From 1 July 2023 at the latest, DSV Solutions Global shall conduct all its business activities from the new business location;
The details of the new business location are:
Malcom McLeanstraat 2
NL-5975 WG Sevenum
T. +31 (0)77 389 22 22
If you have any questions of any kind following this notice, please contact your regular contact within DSV.
Any questions?
Contact Erwin Peeters, our press contact.