DSV further expands its health cluster in North Sea Port with new sustainable warehouse
DSV is starting the construction of a new 110,000 m² warehouse at Ghent's Kluizendok. The highlights: 350 additional jobs, a sustainable warehouse, just about the most attractive workplace in the Ghent logistics sector, perfect temperature control and automated solutions.
17/10/2023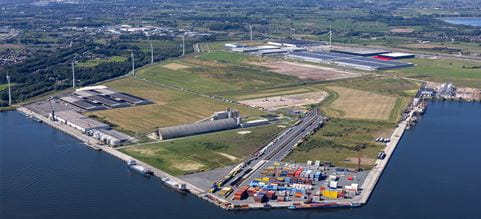 DSV is building the most sustainable pharma warehouse in the Benelux today, naturally with no gas supply and equipped with solar panels. The focus is entirely on storage and distribution for one of the most vital sectors of our economy: healthcare. Products passing through the warehouse will include materials for clinical trials, human drugs, medical devices, natural health products, veterinary drugs and pharmaceutical raw materials.
In total, 110,000 square metres of storage facilities will be built on a 21-hectare site at Kluizendok, on the left bank of the Ghent part of North Sea Port. From there, the goods can be transported to and from the European hinterland by road, ship, barge or rail – as a multimodal port, North Sea Port is located at the intersection of all these forms of transport.
Perfect temperature control
As part of its logistics services, DSV will be able to offer various temperature control regimes for pharmaceutical products at each step of the process in the new warehouse. The building will contain 6,000 square metres of temperature-controlled storage areas with ambient temperatures of 2-8°C, -20°C and -40°C. The new warehouse will be certified (Pharma QMS and GDP) to allow DSV to store and distribute sensitive products there in line with the applicable global standards and regulations. There will be a separate section for the storage and distribution of dangerous goods. The warehouse will be equipped with no fewer than 110 docks for trucks to load and unload.
Advanced automation
DSV customers will be able to easily monitor inventory and manage deliveries in real time. A range of automated solutions at the facility will offer greater flexibility in healthcare logistics, including the use of guided vehicles. It will also be equipped with an automatic storage and order picking system ('AutoStore'), enabling faster and more efficient operations. As well as taking up less space, the system is also more energy efficient. Value added logistics activities such as making displays, shrinking, packaging and labelling services will also be performed in the warehouse.
DSV is very pleased to be starting construction of the most sustainable warehouse within the healthcare sector in Ghent. This ultra-modern warehouse will provide our customers with all the facilities they need to achieve their growth ambitions, now and in the future. And for our colleagues, this will be the most attractive workplace in the logistics sector in the Ghent region,
says Peter van der Maas, Executive Vice President, DSV Solutions Benelux.
Attractive workplace
With its new warehouse, DSV aims to become the most attractive logistics employer in the Ghent region, taking into account the needs of the current as well as future generations of employees. The facility will offer jobs for 350 people, who will be served by unmanned catering 24/7. There will be charging points for cars as well as trucks, and room for parking on the roof of the warehouse, so optimising the use of space.
Together with DSV, we are continuing to expand the logistics side of North Sea Port. This new investment will not only create additional jobs, it also demonstrates the greatest confidence in what we have to offer as a port in terms of location, infrastructure and hinterland connections to Europe,
says Daan Schalck, CEO, North Sea Port.
About North Sea Port
North Sea Port is the 60 kilometre cross-border port area stretching from Vlissingen on the North Sea in the Netherlands through Terneuzen to Ghent, 32 kilometres inland in Belgium.As a centrally-located hub in Western Europe, the port specialises in multimodal transport (shipping, inland navigation, rail, truck and pipeline) and a wide range of goods. North Sea Port generates €12.6 billion in added value annually, placing it third among the ports in Europe. When it comes to cargo transhipment, it ranks tenth in the list of the biggest European ports with 73.6 million tonnes. The port area is home to 550 companies and creates direct and indirect employment for 102,000 people. Visit www.northseaport.com for more information.
Any questions?
Contact Erwin Peeters, our press contact.