Danone's Nutricia returns to DSV
Golive warehouse in Haps completed within 72 hours
16/11/2023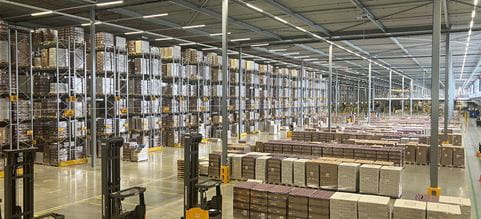 From 2012 to 2021, Nutricia (part of Danone S.A.) was a customer of the Solutions division of DSV Global Transport and Logistics in Venlo. After a short break of two years, Danone has decided to once again fully entrust the distribution of its products within EMEA to DSV.
Medical nutrition
Nutricia develops, produces, and distributes medical nutrition. Medical nutrition is a specifically formulated nutrition that is for example used as dietary food for disease-related malnutrition. During and after a period of illness, the body often needs extra energy, proteins, and other nutrients.

In addition, there may be conditions such as cow's milk allergy and congenital metabolic diseases that result in specific nutritional needs. For these situations, medical nutrition is available with an adapted composition from which components have been omitted or where the components are offered in an adapted form that can be absorbed by the body.

From the warehouse in Haps (North Brabant), time-critical distribution to hospitals, nursing homes, pharmacies and support companies takes place for the EMEA region.
Golive in 72 hours
During the last few weeks, the Nutricia and DSV teams worked very intensively together on every conceivable level to realize the turnaround in the final weekend of September. DSV's knowledge about Nutricia, its products and processes from the previous collaboration were of crucial value.

After the "key transfer" on Friday, September 29, the joint teams of warehouse operations, facility and IT managed to realize the complete warehouse design within three days. The layout of the warehouse was adjusted, including the pick faces and pack lines, after which the golden orders to test the complete system and the end2end setup were successfully completed on Sunday. The entire operation started in the 70,000 m2 warehouse on Monday, October 2.

Peter van der Maas, Executive Vice President of DSV Solutions in the Benelux, is extremely proud:
It is the absolute recognition for the knowledge, skills, and commitment of all our employees over the years, that Nutricia has once again chosen to return to DSV for the EMEA distribution of its medical nutrition. We are happy to work with Nutricia again to maximize their customer satisfaction and grow sustainably together.
On behalf of Danone, Varun Saraf, Director of Logistics, puts it as follows:
Danone's global medical nutrition activities are very important activities that depend on the warehouse in Haps. The reason for returning to DSV was the confidence and awareness of DSV's ability to handle complexity and efficient transition management. So far, DSV has delivered on its promise, and we are very happy with the initial results. We are confident that this renewed partnership between Danone and DSV will continue to grow and add even more value to our customers and patients.
About Danone
Danone is a leading global food and beverage company operating in health-focused, fast-growing and on-trend categories: Essential Dairy & Plant-Based products, Waters and Specialized Nutrition. With a long-standing mission of bringing health through food to as many people as possible, Danone aims to inspire healthier and more sustainable eating and drinking practices while committing to achieve measurable nutritional, social, societal and environment impact. Danone has defined its Renew strategy to restore growth, competitiveness, and value creation for the long-term. Danone's ambition is to be B-Corp certified at global level in 2025. With over 96,000 employees, and products sold in over 120 markets, Danone generated €27.7 billion in sales in 2022. Danone's portfolio includes leading international and local brands including Activia, Actimel, Danio, Alpro, Provamel, evian, Nutrilon, Nutricia and Olvarit. For more information, please visit www.danone.nl.
Any questions?
Contact Erwin Peeters, our press contact.