You know that the market is changing fast
The complexity and unpredictability in the supply chain is increasing. DSV responds to that. How? By offering extra activities and services that keep your supply chain efficient, flexible and at a high level. Logistical activities and services that add value and strengthen your supply chain.

DSV will be happy to discuss the possibilities for optimizing your supply chain with you. Our experience is that receiving, storing, order picking and shipping your goods is often no longer sufficient. We offer a wide range of Value Added Logistics for this. We never just get started. We start by recording all tasks and instructions in strict, digitally recorded procedures, naturally in close consultation with you. We then provide the training for our experienced staff and we ensure compliance with the procedures in our operational processes through digitization.

DSV offers, among others, the following Value Added Logistics: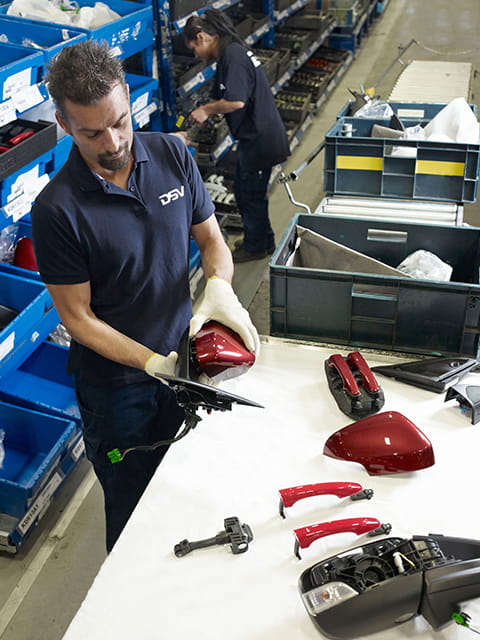 Assembly and kitting
Are you struggling downstream in the supply chain with high stocks that run the risk of aging quickly? Then it might be smart to shift part of the production process to the warehouse. By assembling end products at the last minute, you only have to keep modules and components in stock. DSV has extensive experience with this type of activities, including in high-tech. We know what is required for this.

Do you want to deploy your own employees more efficiently? You can relieve them by entrusting part of their duties to us. DSV puts kits together with all the materials they need to perform a specific task. If you want, we combine components to create new products based on your bill of materials.

By using DSV for assembly and kitting, you no longer lose time and money in your supply chain. Of course we guarantee the quality of the products and we offer complete transparency based on series, batch and lot numbers.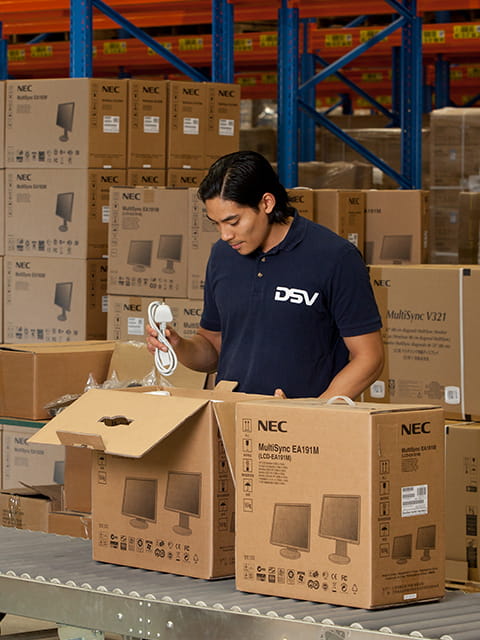 Testing of products
Of course you want a final check before your products are transported. After all, you do not want to damage your customers' trust with a "dead on arrival" (DOA). DSV checks the operation of your products based on the test procedures that we draw up in close consultation with you. Among other things, we check whether all connections work. We also go through the functionality of the products. If you wish, we will take measurements. We will of course inform you about the results of our test procedures, so that you will always have them with you during the further life cycle of the products.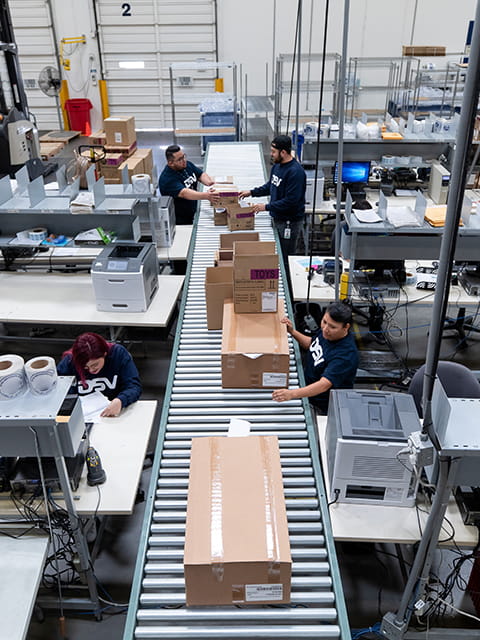 Packaging and repackaging
Sometimes the original packaging is not the right packaging. DSV can package and repackage your products. Is a box damaged during transport? We repackage the product. Is a country, language or customer-specific packaging required? We replace the original packaging with the correct packaging.
Increasingly, customers are making demands on the way in which products are delivered. Do they ask for a specific pallet format? Do they ask for pallets that are stacked higher or lower? Do they want smaller or larger boxes with more or fewer products? Do they ask for a display box that can be placed directly on the store shelf? We ensure that your products are delivered in accordance with the specifications.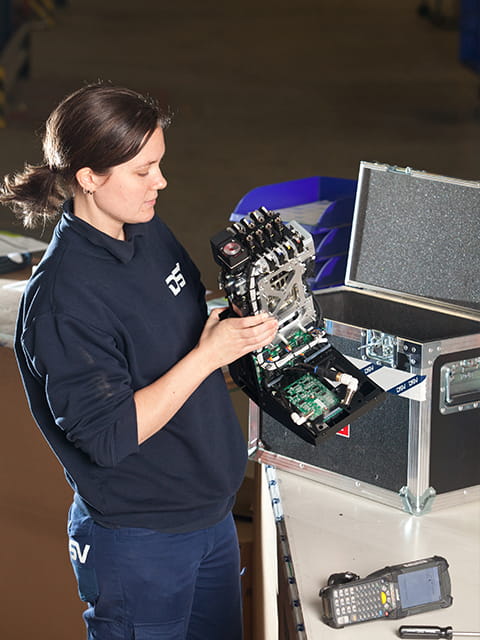 Configuration of products
Do you supply high-tech products such as computers, tablets, smartphones, printers, smart TVs or internet routers? Then of course you want your products to be delivered with the most recent software and the settings requested by the customer. DSV takes care of that.

We configure your hardware based on customer and / or country-specific requirements. We ensure that the products are plug-and-play and ready-to-use upon delivery. Everything for an optimal service to your customers.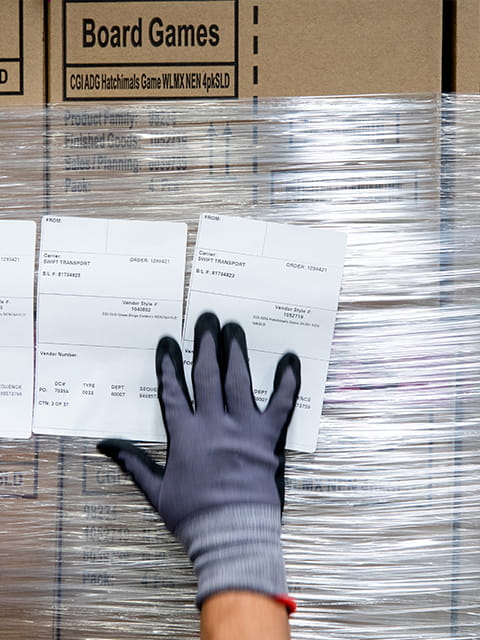 Labeling
Once in the store, your products must be immediately ready for sale. DSV makes that possible. We provide your products with labels with the correct logos, tags, barcodes and prices. We do this at the location in the supply chain where that can be organized most efficiently: the warehouse. Do different stores in different countries ask for different labels? No problem. We ensure that your products contain the correct country or customer-specific information. From the box they can go directly to the store shelf.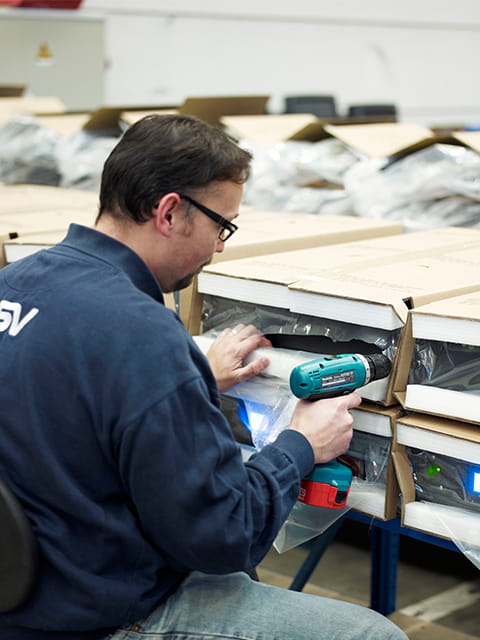 Repairs
Good service is crucial for a good customer relationship. We know that at DSV. We support the entire life cycle of your products. Do customers return a defect product? We offer a wide range of repair and reconfiguration work. We can test every returned product, replace defective parts and reconfigure the product. Our Warehouse Management System offers full support for these activities. That means that all work is recorded, linked to the serial number of the product, so that you have a reliable maintenance history.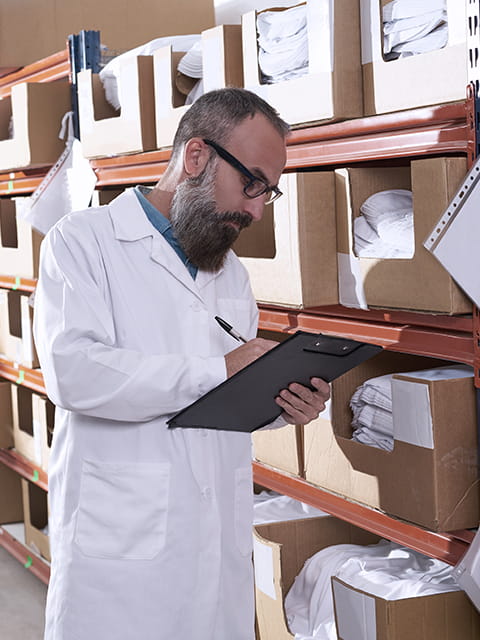 Quality inspections
We often have your products in your hands before your own employees. That is why DSV provides quality inspections of all incoming goods if required. We also discover transport damage before your customer does that. We perform visual checks and manual inspections, whether or not by sampling. In this way we detect manufacturing errors. In this way we guarantee that your customers will only receive products that meet your specifications and quality requirements.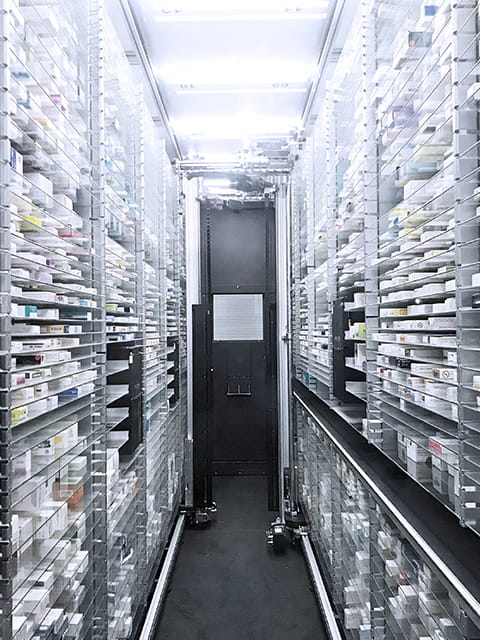 Sample taking
Product quality is crucial in sectors such as pharmaceuticals. DSV knows the interests that depend on it. We check the product for you and take measures if necessary. We take samples of incoming goods and check whether the composition meets your specifications. Is the quality outside the predetermined margins? Is there contamination? We will block the relevant party until further notice and inform you.
Any questions?
Our teams in DSV Solutions are ready for you.