Introducing Logistics Manufacturing Services
Are your customers demanding faster lead-times, higher product availability, personalized products, and at the same time, insisting on environmentally sustainable solutions? Logistics Manufacturing Services is a proven approach to meet and exceed these customer demands.

Using our global network of facilities, we can procure, manufacture, test, deliver, install, return, and remake your products wherever your customers need them. By distributing your supply chain activities across our global network, we create fast, local, and circular supply chains for you and your customers.

If you want to improve customer lead-times, increase product availability, enable last-minute product customisation, and enable the transition to sustainable and circular supply chains in manufacturing logistics, contact us to learn how.

Move your supply chains to wherever your customers are
Installations and field service management

Managing materials and technicians across the field, our approach ensures a truly end-to-end solution for you and a right first-time installation service for your customers.

Distributed manufacturing services

A unique copy-exact approach lets us manufacture, configure, assemble, test and deliver any product across our global network of facilities and close to your customers.

Remaker services

Using our global network of facilities, we can test, repair, remanufacture, refurbish and repurpose your products to extend product life cycles and help you transition to an environmentally sustainable, circular supply chain.

 Value-adding Reseller Services

Working directly with your approved suppliers, from procurement and inventory management, to any value adding activity needed; including assembly, configuration, testing, customer delivery, installation, repair and returns and even customer service and invoicing.
Customer case
Logistics Manufacturing Services for Ericsson
How to significantly reduce working capital requirements and order fulfilment lead times? This challenge in manufacturing logistics was solved by DSV for Ericsson.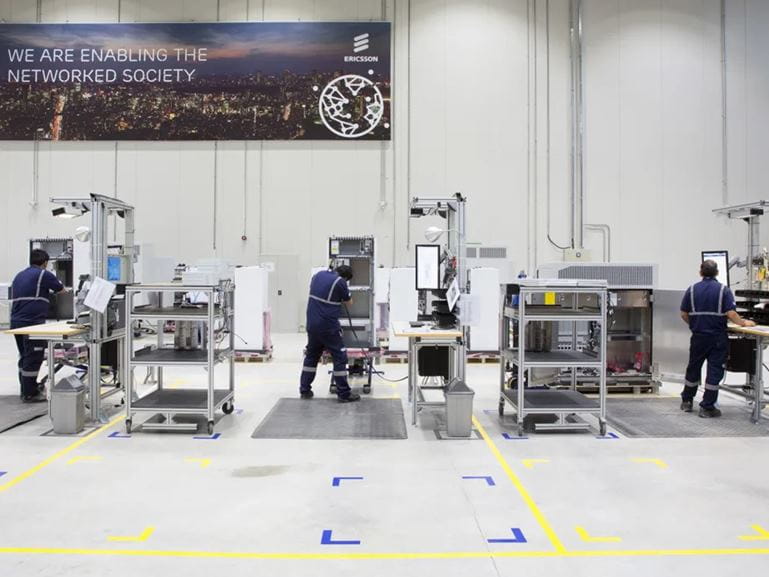 Customer demands have changed
Have your supply chains?
Today's customers demand shorter lead-times, higher product availability, increased customisation, and demonstrable environmental sustainability. This means businesses demand more from their supply chains.
To deal with these complex challenges and ensure your business can exceed your customer's expectations, DSV provides manufacturing services and solutions.
This proven approach localizes and distributes your manufacturing in supply chains.
Making use of our global network, we distribute your value-adding activities and move them closer to your end-customers: increasing product availability, shortening customer lead-times and enabling last-minute product customization.
And in today's circular business world, our Logistics Manufacturing Services enable shorter, faster circular chain loops and provide you with the ability to extend product life cycles to protect our earth's precious environmental resources.
Localized, distributed, and circular supply chains don't just benefit your customers and the environment, they benefit your business too. A distributed supply chain is a resilient and fast supply chain that increases your business flexibility and reduces working capital through accelerated inventory turns.
So, if you want to exceed your customers' expectations and make your supply chains fast, local and circular, you can rely on Logistics Manufacturing Services.
Towards a more sustainable future with DSV

Engage in remodelling world trade for the future – learn more

Five reasons to work with us at DSV Global Transport and Logistics

Discover a leading company in global transport & logistics
Any questions?
Our teams in DSV Solutions are ready for you.