Talk to us about reducing risk and protecting your assets
In a globalised world, your supply chain has to be flexible, efficient and ready for the unexpected. At DSV, we understand the complexities of managing a supply chain – and also how much is at stake. That's why our Supply Chain Security solutions are designed to help you manage threats, mitigate risk and maintain a robust and dependable supply chain.

We take the time to work with you to fully understand how we can help your business stay ahead of security risks. Then we use our experience and expertise to develop strategies and solutions that keep your goods safe throughout their journey. With a proactive approach focused on your business challenges, we strive to become your long-term trusted partners in supply chain security.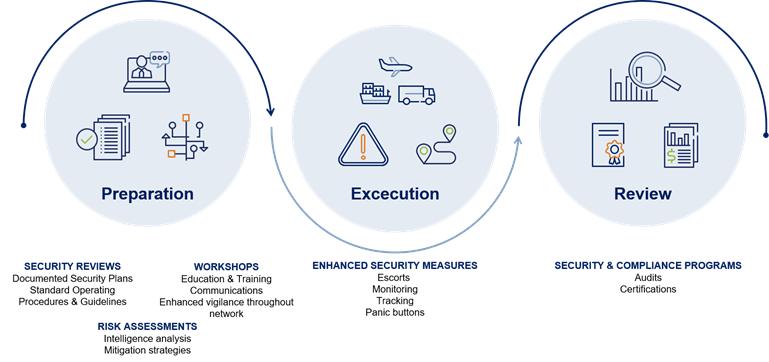 The level of security your business needs
Our tailor-made security solutions are designed to meet the exact challenges of your business. Whether you need a review of your current security measures, intelligence reports to support decision making, assistance with a one-off task or a dedicated DSV security manager on your team, we can provide the exact level of service you need to maintain a robust supply chain.

For more information or to find out how we can support your business with supply chain security, please visit dsv.com or contact us.

Any questions?
Our teams in DSV Road are ready for you.