A Journey of Success: DSV Project Logistics
When it comes to managing complex project logistics, it's undeniable that every step presents unique challenges to overcome. It demands more than just efficiency; it requires expertise, commitment, and a strong focus on safety.
10/18/2023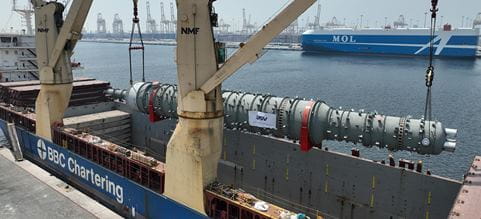 Our project journey began in Jebel Ali, Dubai, United Arab Emirates, a strategic starting point for our impressive six-breakbulk cargo operations. These cargos, boasting challenging dimensions, added up to an astonishing 3,254.54 cubic meters and 450.16 tons.
Setting sail from Jebel Ali, we embarked on a voyage to Marghera Port in Italy. Upon our arrival at Marghera, we encountered another significant challenge: the double banking operation. Despite its complexity, we efficiently loaded 1,244.17 cubic meters, totalling 522 tons, in just three days. After Marghera, our final destination was Lithuania.
Lithuania warmly received our cargo at the port in Klaipeda. Over three meticulously managed days, we ensured the safe unloading of our cargo, showcasing DSV's commitment to reliability and excellence in project logistics.
Our journey reached its culmination in Bega, where our dedicated team continued to exhibit their expertise, ensuring the seamless offloading of the cargo within two days.

Our mission extended beyond the port as we navigated the 140-kilometer journey to transport the cargo from Klaipeda port to the client's site in Lithuania. This journey posed several challenges, with deliveries often taking place at night, on poorly lit and winding roads. Nevertheless, the DSV team adeptly overcame these hurdles, ensuring timely deliveries without incidents.
This account demonstrates DSV's proficiency in project logistics and highlights how we can support your business in managing breakbulk project cargo effectively, no matter the complexity or distance.
Click on the link below to watch the Youtube video
Any questions?
Contact us for advice on the right container for your needs.