Introducing DSV ETA
With DSV ETA you get a two-hour window for pick-up and delivery times on your shipment, opening up new possibilities for your business.  
DSV ETA is a service provided via our myDSV platform that provides precise real-time ETAs. It enables better planning of your transports and internal workflows; while reducing carbon emission due to optimised route planning.  
Contact your local office to try DSV ETA

Find my local office
How DSV ETA benefits your business
Plan more efficiently

With a customizable two-hour window for pick-up and delivery

Optimize your workflows

Plan your workflows based on precise real-time data

Get a new level of transparency 

Easily follow your shipment in the myDSV portal

Reduced greenhouse gas emissions

Thanks to optimized route planning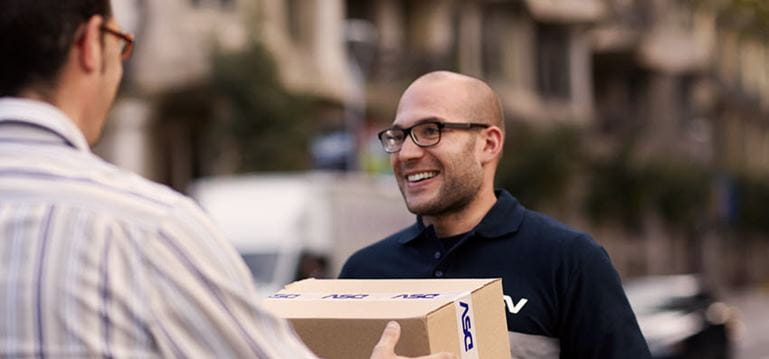 Breaking down complexity to support your business
With DSV ETA, we break down the complexity of B2B shipping data. This innovative solution gathers all relevant data across borders and systems in one platform to deliver a real-time status of your shipment. 
DSV ETA starts collecting GPS data just after the truck leaves the terminal. Unforeseen events along the route, such as queues or roadblocks, are registered as they occur, immediately updating your ETA. 
All you have to do is log on to your self-service portal, myDSV, to follow your shipment, you can even register with your email or mobile number to get notifications on changes.  
DSV ETA is just one in a number of efforts to support your business as best as possible. Because we believe that – complexity or not – the commerce must go on. 
The service is currently applicable for transports going through one of our many DSV terminals. Either after pick-up or before the delivery.  
DSV ETA is available in the following countries: Denmark, Sweden, Norway, Finland, Latvia, the Netherlands, Belgium, the UK, Ireland, France, Spain, Portugal, Hungary, the Czech Republic, Slovakia and Switzerland.  
Go to myDSV
and get an ETA for your next shipment
Want to know more about DSV ETA? 
Contact us if you want to know more about DSV ETA
Any questions?
Our experts are ready to help. Get in touch and we'll find the solution you need.