DSV expands capacity in Limburg with two new branches
19,000 m2 cross-dock with a 43,000 m2 double-deck warehouse in Horst aan de Maas and a 40,000 m2 multi-user warehouse at Maastricht-Airport
24/02/2022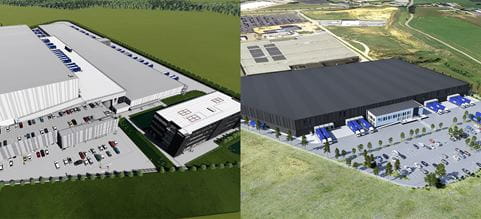 DSV is very pleased to announce that in the coming weeks the construction of two new hypermodern branches in the province of Limburg will start. In the municipality of Horst aan de Maas, a cross-divisional DSV campus will be built on Greenport Venlo at Malcom McLeanstraat 2 in Sevenum. At Maastricht-Airport, the Air & Sea and Solutions divisions will jointly move into a multi-user warehouse at Ierlandlaan 1. Both sites will contribute strongly to the continued maximum service of our customers in today's volatile and unpredictable transport markets.
Horst aan de Maas
In the direct vicinity of the four branches of the Solutions division, construction work will start at the end of February on the cross-divisional campus of DSV. This campus will offer cross-dock, storage and offices for the customers and employees of the Road and Solutions divisions, as well as the joint Shared Service Center. In addition, the Solutions management including its staff departments will become permanent residents of this state-of-the-art location. All business activities that have taken place for many years at Tasmanweg 2 in Venlo will move to the new location by 1 July 2023 at the latest.


We are delighted that, in close cooperation with the municipality of Horst aan de Maas, the municipality of Venlo and Greenport, we have found a suitable solution to realise our growth ambitions in the vicinity of our current location in a contemporary business location where the employee is the main focus,
says Patrick van Ulft, Managing Director of DSV Road.
This Breeam Excellent certified site with solar panels has a warehouse of over 34,000 m2 divided over two floors, supplemented with over 8,000 m2 of mezzanine and 33 docks. The cross dock of 19,000 m2 will be equipped with 128 docks. The offices will be spread over three floors and over 7,000 m2 in accordance with the Activity Based Working principle. This recognises and acknowledges that different people perform different activities during their daily work. Their working environment is adapted to this by providing the right mix of working from home and in the office, with space for relaxation in the office. In doing so, DSV not only creates a space that suits the work, but also a culture of connection, inspiration, trust and autonomy. More information is available here.
Aviation Valley
Over the past years a community of hundreds of organisations, employees and students has gathered around Maastricht Aachen Airport (MAA) to form Aviation Valley. From this strategic location within the Euregion, DSV will start building a 40,000 m2 multi-user warehouse including 4,700 m2 mezzanine, almost 2,000 m2 office space and 22 docks at the end of February. A fourfold increase from the current site on Europalaan, which will be vacated at the end of December 2022 to move to the new location.
It is great to see that in cooperation with the municipality of Beek, Aviation Valley and our sister organisation DSV Air & Sea, we can realise our ambition to grow further in the Maastricht area close to Belgium and Germany,
says Remco Innemee, Senior Director Southeast Netherlands at DSV Solutions.
From this Breeam Excellent certified facility, the Air & Sea division will continue to grow its activities through air freight, sea freight, rail transport and courier services. The latter, better known in the market as DSV XPress, will move from the location at Tasmanweg 2 in Venlo for this purpose. The Solutions division will provide the multi-user warehouse, as at its other locations, with Value Added Services such as temperature-controlled storage, clean room kitting, rework, (re-)packaging, labelling, quality control and assembly.
Any questions?
Contact Erwin Peeters, our press contact.