Earthquake in Turkey
The earthquake and aftershocks that struck the south-eastern part of Turkey on 6 February are currently impacting DSV's operations in the country. As a result, operational delays should be expected.
08/02/2023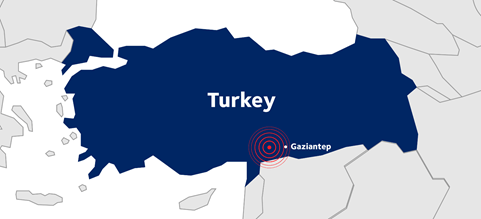 The earthquake, which struck south-eastern Turkey near the border with Syria on Monday 6 February, has impacted the country's infrastructure as well as DSV's operations. All DSV employees have been accounted for and are safe.
All DSV Turkey offices are currently in operation, but not to full capacity as the local DSV staff attend to pressing personal matters. Furthermore, DSV is currently assisting local authorities to the extent possible, providing humanitarian aid and transport assets.
Due to the damaged infrastructure and insufficient internet connection in the area near the earthquake epicentre, DSV expects that there will be significant delays at our Mersin and Adana operations.
Despite its close proximity to the earthquake epicentre, the port of Mersin continues to be operational. However, given the significant structural damage at the port of Iskenderun all operations have stopped until further notice.
In terms of air freight, the Hatay, Gaziantep and Kahramanmaras airports are closed. The Adana Airport is still running, but all commercial operations are on hold.
DSV's teams are working hard to find alternative solutions and minimise the impact on our customers and supply chains.
For any shipments to the above-mentioned ports, airports or South-Eastern Turkey, please reach out to your regular point of contact in DSV.
Any questions?
Contact Erwin Peeters, our press contact.