DSV Block Train: Connecting China and Europe via the new Silk Road
In the first half year of 2020, COVID-19 has limited air and ocean capacity worldwide. Making use of the unique strengths of rail transport, DSV block train has been keeping supply chains flowing, by delivering China exports to Europe during COVID-19 period.
8/28/2020

Supporting Spain in fighting against COVID-19 via DSV We Help!
Over the last 6 months, DSV has transported more than 250 million pieces of disposable medical masks and other anti-epidemic materials from multiple origins in China to Madrid, Spain through the China-Europe freight train.
On a DSV block train heading for Madrid in July, 82 TEUs comprising more than 58 million pieces of disposable medical masks were moved from China to Spain. Departing from Qingdao, the train completed customs clearance at Shenyang, passed through the territories of Russia, Belarus, Poland and Germany, and arrived at Madrid, Spain in 21 days, travelling a total distance of 14,133 km. The team of rail experts from DSV went extra miles to ensure all go smoothly.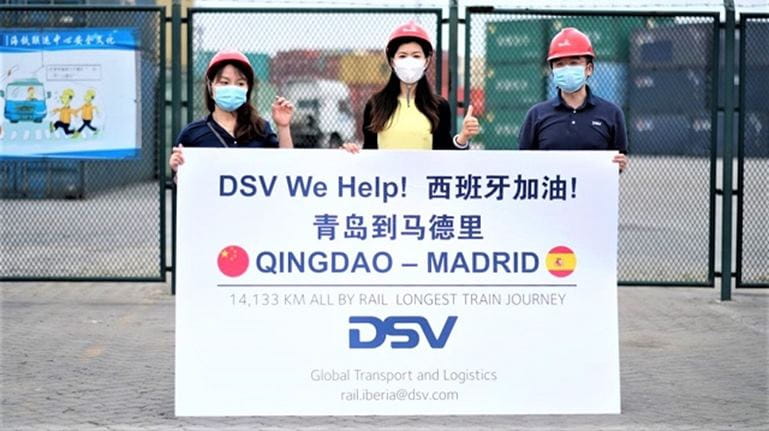 The complex operations behind a rail shipment
When goods are loaded into a container for rail transport, a good balance must be achieved to ensure the steadiness. When factories encounter difficulties in loading the cargo, DSV will provide guidelines and solutions, based on the packing list provided. For customs declaration, documents must be well prepared in advance to meet different requirements by customs of multiple countries on the way, and minimise chances of delays and extra fees. Despite the complexity of rail transport, shipments are in good hands with our rail expert team in charge.
Rail transport keeps growing despite COVID-19
Facing challenges in air and sea freight, rail transport has become a key logistics channel of China exports of medical supplies, daily necessities and raw materials to Europe during COVID-19 period. With shorter lead time than sea freight and lower cost than air freight, rail is a reliable alternative. By leveraging the competitive edges in product expertise and global network, DSV will continue to offer quality end-to-end rail solutions.
Another flexible option - Direct LCL Rail from China to Europe
Any questions?
Our experts are ready to help. Get in touch and we'll find the solution you need.