Benedikte Leroy elected new member of DSV A/S' Board of Directors
At the DSV A/S Annual General Meeting on 17 March 2022, Benedikte Leroy was elected new member of the DSV Board of Directors. She brings substantial experience from the technology and transport industry and within the field of ESG.
3/17/2022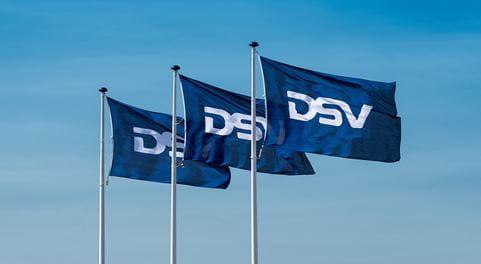 DSV A/S' shareholders have elected Benedikte Leroy as new member of the Board of Directors. She is replacing Annette Sadolin, who will not seek re-election. The election of Leroy took place on 17 March at DSV A/S' Annual General Meeting.
Benedikte Leroy currently holds a position as Senior Vice President & Global General Counsel at Volvo Trucks AB. She has extensive experience in both technology from international leadership roles at large technology companies and in legal compliance, ethics, ESG and acquisition & divestment of enterprises.
Chairman of the DSV Board of Directors, Thomas Plenborg, says:
"I am pleased to welcome Benedikte Leroy to the Board of Directors at DSV. Benedikte's strong background in technology and legal compliance and her understanding of the transport industry given her current SVP role in Volvo Trucks make her a strong addition to our Board. Two of DSV's most important focus areas are digitalisation and ESG, and I believe that Benedikte can help us further accelerate these strategic agendas."
Benedikte Leroy is looking forward to contributing to the work that lies ahead for both DSV and the industry in general and says:
"DSV has become one of the largest companies in Denmark as well as a global market leader within the transport and logistics industry. From this global position, DSV is addressing what I also believe are the most important industry challenges: the transformation to greener transport modes and supply chains and to more digitalised infrastructure and offerings. I am honoured to have been elected to the Board of Directors at DSV, and I am looking forward to contributing to the important agendas alongside the Chair, the Board members, the Executive Board and the global DSV organisation."
Benedikte Leroy replaces Annette Sadolin, who elected to resign from the Board of Directors after many years of valued service to DSV. Annette Sadolin has served on DSV's Board of Directors since 2009.
"I would like to sincerely thank Annette Sadolin for her many years of dedicated work for DSV. Annette has been an important part of the Board of Directors during more than a decade in which DSV has developed and grown substantially. Throughout the years, DSV has benefited from her broad business knowledge and experience. On behalf of the Board of Directors and the Executive Board, I wish Annette all the best in her future endeavours," says Thomas Plenborg.
Link to DSV Company Announcement
Link to Media kit
Any questions?
Our experts are ready to help. Get in touch and we'll find the solution you need.