DSV and GE Gas Power: Making a Powerful Move Together
At the end of 2022, DSV delivered 3 colossal HRSG (Heat Recovery Steam Generator) supermodules for GE Gas Power from Korea to Japan for the company's latest project in a thermal power station in Goi, Chiba. The station is expected to provide reliable and stable power to 820,000+ households in Tokyo's metropolitan area.
3/8/2023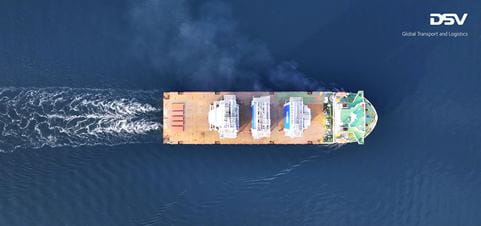 As a world leader in gas power technology, services, and solutions, GE Gas Power has a massive mission – powering growth and prosperity everywhere. Among their many projects to engineer cleaner and more accessible energy for all, the company needed to deliver to its overseas customer the new 9HA HRSG (Heat Recovery Steam Generator) supermodules, which are so far the largest ones in GE Gas Power's history. When the company asked DSV to transport the 3 mammoth pieces of equipment from Korea to Japan, DSV Projects teams were happy to take on the challenge.
A gigantic move requiring meticulous planning
It all started in June 2021, when DSV Projects team in Korea met with the customer to understand the details of the cargo. Standing over 40m tall and weighing in at 2,500 tonnes each, the 3 gigantic blocks of HRSG supermodules required careful calculation and thorough planning to ensure a safe and smooth delivery. After 16 months of preparation, the production was done, and the big move started.
"
Although our Projects team has over 20 years of expertise in managing heavy lift and out-of-gauge transports, shipment of this size is still rarely seen. To load the extremely heavy blocks onto the vessel, we have deployed several self-propelled modular transporters (SPMT) with 4 power pack units and 72 axles that provide excellent traction and control
," said Thomas Hong, Director of Strategic Account at DSV Air & Sea Korea.
A mega journey through the Straits
The hefty loads also required a special vessel for the conveyance. "
Normally a barge led by a tugboat has no capability to handle this type of cargo. Lacking ballasting function also makes it hard for a normal barge to balance for operations. This was why our Projects team chartered a heavy lift self-propelled barge (SPB) with deadweight of 20,000 tonnes for this special shipment. We have also arranged for welding to fasten the cargo on board, to ensure its safety throughout the entire voyage
," Thomas added.
After 7 days of intensive loading at the origin port in Korea, the HRSG supermodules went on a 5-day journey as the barge set sail for Japan. Covering 887 nautical miles, this marked the first time the GE 9HA HRSG series was shipped from its manufacturing facility in Korea to another site in Asia.
The trip started from the Tongyeong jetty on the southern coast of South Korea where the HRSG supermodules were assembled. It continued down the Korea Strait as well as Ousumi Strait by barge and the cargo safely arrived at the final destination – the new 2.34GW facility at the Goi thermal power station in Chiba, Japan.
At GE Gas Power, we are committed to helping power generation facilities around the world transition to a lower carbon future. In order to achieve this goal, we rely on a well-coordinated and efficient logistics supply chain. We are grateful to have a partner in DSV that has shown a thorough understanding of our needs, and we appreciate the excellent service that the teams on the project have provided.
- Johnny Park, Logistics Project Manager in charge of this project at GE Gas Power
"
When it comes to project logistics, every shipment is unique. Given its extraordinary nature, this shipment was a high priority shipment for GE Gas Power – and for us at DSV. The successful transport was a result of the collective efforts of our teams in DSV Korea, DSV Japan as well as Global Chartering team. Their hard work and meticulous planning ensured that the customer's exacting specifications were met, and that the shipment was delivered safely and on time
," said Moonho Choi, Managing Director of DSV Air & Sea South Korea.
About Goi thermal power station replacement project
The Goi thermal power station replacement project involves the construction of three new gas-fired combined-cycle units of 2.34GW total capacity with higher thermal efficiency to replace six ageing gas-fired steam power units at the facility which were commissioned between 1963 and 1968.
The station is expected to provide reliable and stable power to 820,000+ households in Tokyo's metropolitan area.
About DSV Projects
The DSV Project teams specialise in providing transport, logistics and consultancy solutions for heavy, oversized and complex cargo in all industries. Our global force of skilled professionals is ready to serve your most complex logistics demands and execute any major move, even to the most remote locations.
If you need assistance from our Projects teams please visit
the projects transport section
for more information.
Any questions?
Our experts are ready to help. Get in touch and we'll find the solution you need.