DSV LCL Direct Service is your cost-efficient alternative to ship on intercontinental or short sea routes.
With DSV LCL Services, we offer direct weekly departures, guaranteed capacity and a vast choice of destinations – whether on intercontinental or short sea routes. LCL shipments are carefully planned and loaded in our own LCL network. We consolidate freight at our dedicated hubs on a regular basis and serve most destinations worldwide at least once a week.

Your cost-efficient solution for shipment of small volume
With our LCL Services, cargoes of small volume are consolidated and containerized at our Container Freight Station (CFS) at the origin port before shipping to the destination. In other words, you share space as well as cost with others, as you only pay for the space allocated. You can also save time without consolidating small lots of shipments on your own to fill up the entire container. This is a more cost-efficient solution than air freight when you have just a few pallets to ship.

LCL direct services connecting APAC with the world
DSV operates 440+ LCL services every week, connecting Asia Pacific with major ports worldwide. We have two LCL strategic hubs in the Asia Pacific region, namely Singapore for shipments to Europe, and Busan for shipments to Americas. With our frequent departure schedules and extensive LCL network, we offer an optimized solution that delivers your cargo to most destinations in the world.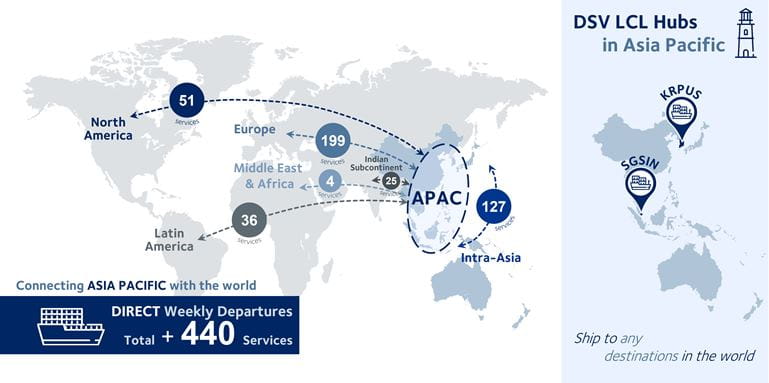 LCL direct services connecting China with the world
DSV operates 230+ LCL services connecting 9 major seaports in China with other key ports in Asia, Europe, Americas and Middle East at least once a week. Our guaranteed weekly services allow you to plan for a timely shipment, hence optimizing your inventory levels and supply chain.
What are the benefits of DSV LCL Direct Service?
DSV's Own Consolidation Box

Direct Weekly Departures

Cost-Efficient

Guaranteed Capacity

Global Coverage

High Security
Any questions?
Our experts are ready to help. Get in touch and we'll find the solution you need.