DSV moves to new location at Maastricht Airport
Warehouse and offices at Ierlandlaan 1 taken into use
23/02/2023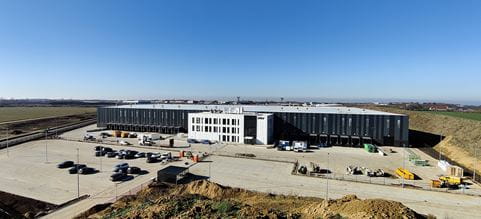 DSV is continuously growing in a sustainable way by realising new buildings close to its customers in locations where all divisions are located together as much as possible. This allows DSV to provide its target groups much better in the long term with state-of-the art warehousing, distribution and Value-Added Logistics suited to their specific needs.
Storage quadrupled
At the Ierlandlaan location, we offer 31,000 m2 of warehouse capacity with an additional 4,700 m2 mezzanine and 22 docks. A quadrupling of the current location on Europalaan. In addition, the 26,000 m2 warehouse on Engelandlaan will remain fully operational. Besides the basic processes such as inbound, warehousing and outbound, we naturally also offer customs, fiscal representation and Value-Added Logistics such as repackaging, labelling and quality control at this location.
This Breeam-certified state-of-the-art expansion will enable us as DSV to realise the growth ambitions of our customers as well as DSV and expand our services in a better way, sustainably in order to keep supply chains moving in a world of change,
says Peter van der Maas, Executive Vice President, DSV Solutions.
2,000 m2 office facility
Fully in line with DSV's strategy to consolidate office and warehouse facilities as much as possible, all DSV's divisions will work together at Maastricht Airport in this facility at Aviation Valley in the heart of the Euregion to deliver innovative, sustainable, and effective supply chain solutions on a daily basis.
From Wednesday 1 March next, our teams from DSV Air & Sea, DSV Solutions and DSV XPress will start working for you at the site at Ierlandlaan 1, 6199 AR in Maastricht Airport. The relocation of existing customers, but certainly the implementation of new customers of DSV Solutions to this distribution center are up and running of which the first customer is now fully operational.
Any questions?
Contact Erwin Peeters, our press contact.