End-to-end logistics - with added sustainability
Fashion logistics lets you stay one step ahead with all the logistics services you need to keep stores replenished, get goods to customers and introduce greater sustainability to your fashion supply chain – from repairs and refurbishment to recycling.
Fashion logistics services
Global WMS and warehouse network
DSV Fulfilment Factory
Value-added services
Freight management
Last-mile carriage – final mile distribution
Enhanced returns including E-commerce returns network
Local grading of returns
Keeping valuable resources in use
We offer a range of services that help your customers prolong the lifetime of their purchased products, while helping you to re-use materials and reduce waste.
Local returns
With our local returns services, you can shorten the entire returns process and also reduce your transport costs and emissions. Using our local and regional teams, we can take care of everything – from grading to resale or recycling.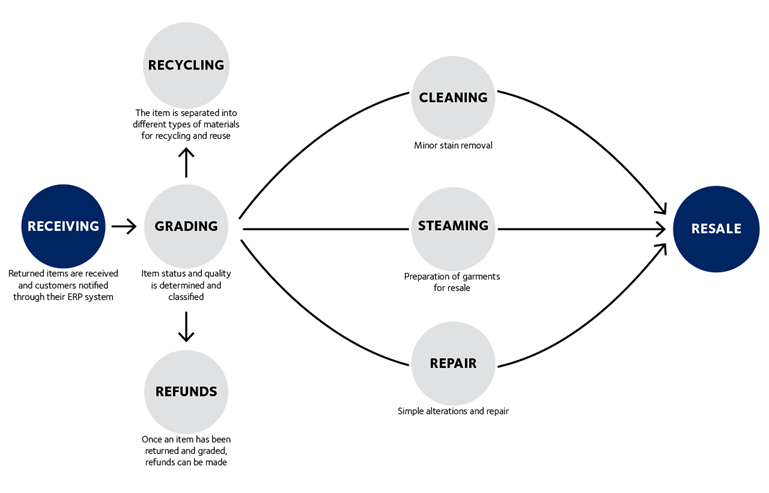 Grading

We offer a local grading service that can classify sub-standard items and send non-sellable materials for local recycling or reprocessing.

Refunding

When an item has been returned and graded, we can make sure your customers get their money back straight away.

Stain removal

If an item is returned with a stain, we can remove this so it can be sold once again.

Repair

Very often apparel can be kept in use with simple alterations and repair. We work with a number of local and regional partners to offer repairs that can keep your products in use and extend the lifetime of a product.

Recycling

Once an item has reached the end of its lifetime with a consumer, it can still be reused and recycled. We work with local and regional partners who can, depending the composition of your products, separate the item into different types of material ready for reuse and recycling.
Personalisation and tailor-made services
Do your customers want their products gift-wrapped or personalised? Improve the customer experience with our personalisation services.

Engraving

Embroidery

Poly bagging

Gift wrapping

Card writing

Personalisation

Labelling

Ticketing
Fashion warehousing where you need it
As part of one of the world's largest transport and logistics companies, we offer a global network of local and regional warehouses and campuses to support your business close to your customers. Whether you are looking for shelf, hanging garment or pallet storage, we have the space and flexibility you require.
10+ regional campuses
500+ local warehouses
45+ countries
Automated, scalable – and plug and play
The DSV Fulfilment factory offers state-of-the art automated warehousing. The system is designed to streamline your storage and fulfilment process with a reliable, scalable and cost-effective set up. This gives you full flexibility so you can cope with volume and seasonal fluctuations.
One WMS to rule them all
With our integrated Warehouse Management System, CargoWrite, you get a complete overview of your stock at multiple locations. It gives you 24/7 real-time visibility of all warehouse activities and cross-border deliveries so you can move your stock across locations when needed.
Multi-site, multi-client management

Routing of goods based on packaging levels

Vendor-managed inventory

Product-expiry management

Reporting
We believe in relationships
Working with DSV means working with a team of professionals who understand the fashion industry inside out. Our experienced teams and account managers take the time to get to know your business and are always willing to go the extra mile so that your end customers get the experience they expect from your brand.
For a more sustainable future
DSV is working to be part of the change and lead the way towards a more sustainable future for transport and logistics. Our green service offerings enable you to reduce your environmental impact in your supply chain in both the short and the long-term.
Out of stock, out of mind
The days of two fashion collections a year have long since passed. Find out more about how brands manage stock levels in the fast-paced fashion retail environment in our whitepaper.
Case study
Capri
Trust, flexibility and scale made all the difference in mitigating supply chain disruptions, ensuring capacity and supporting Capri's business requirements.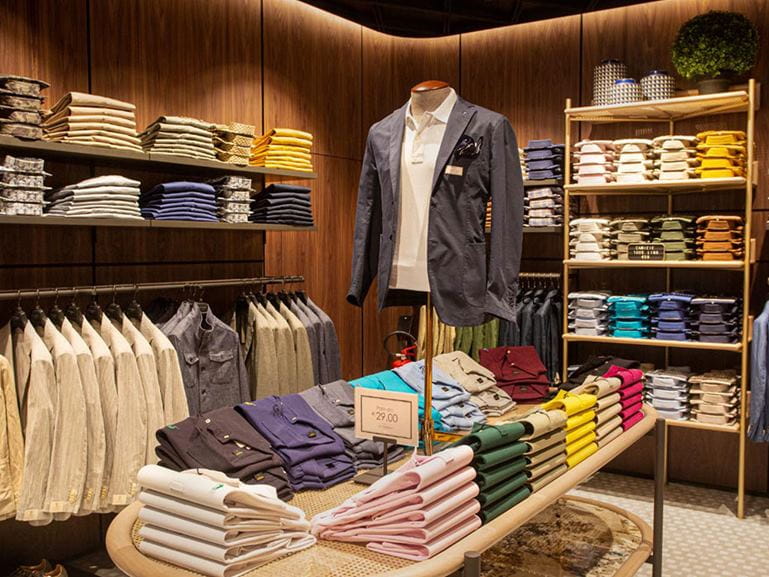 Any questions?
Our teams in DSV Solutions are ready for you.