Unit Load Devices
United Load Devices (ULD's) are specially designed pallets or containers for the use of air freight. These ULD's are designed in such a way that they make optimal use of the space available in an aircraft. Using a ULD with your cargo shortens the loading and unloading time at the airport.
Air freight pallets
These are flat plates (mostly made of aluminium) on which your cargo is secured with nets or meshes to hold the cargo securely in place during a flight. Air freight pallets can be loaded and adapted to the contours of the aircraft, so that loading space will be used optimally.
Air freight containers
The equivalent of sea containers, but with much more variety in shapes and sizes due to the many different aircrafts in use. There are also air freight containers available for more specific purposes, such as: refrigerated containers, side loaders, airtight- or ventilated containers.
The dimensions and payload of ULD's may vary by manufacturer and each airline. Rules and regulations of the use of ULD's are also subject to the terms and conditions of each specific airline.
ULD identification codes
The International Air Transport Association (IATA) is de leading authority in the air freight industry for technical specifications for ULD's. Every air freight pallet or container has a unique code to identify its technical specifications. Each identifier contains a unique code of letters and numbers in the following order.
| Position | Character | Description |
| --- | --- | --- |
| 1 | Alphabetical | Type of ULD |
| 2 | Alphabetical | Base dimensions |
| 3 | Alphabetical | Contour or compatibility |
| 4, 5, 6, 7 and 8 | Numeric | Serial number |
| 9 and 10 | Alphabetical | Owner |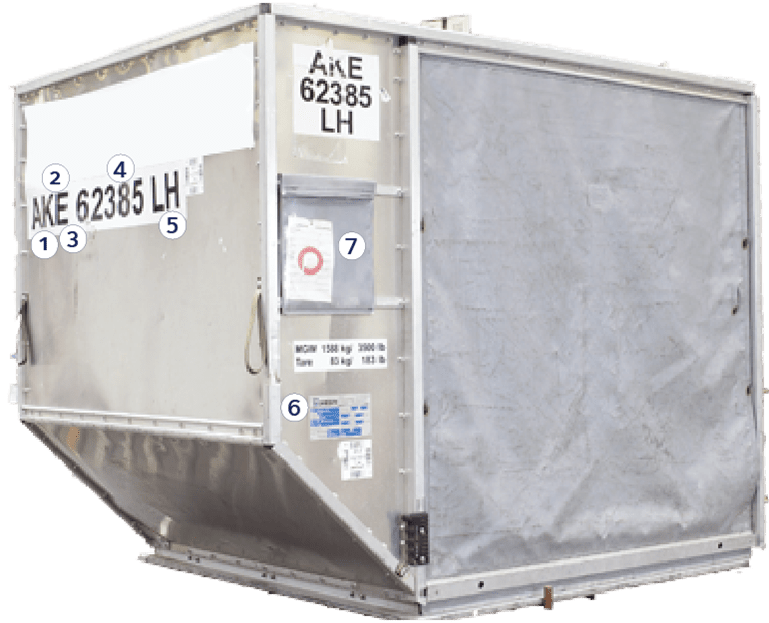 Legend
The first letter in the code indicates the type of air container (1)
The second letter in the code (2) refers to the floor dimensions of the container
The third letter in the code (3) indicates:

If it is an air freight container: the shape, circumference and load capacity of the container
If it is an air freight pallet: what type of network, meshes or loading system is used

Followed by a five digits serial number that identifies each specific container (4)
The last two letters or numbers in the code indicate the owner of the container or airline (5)
Technical specifications and official seals (6)
Documentation pocket for cargo documents (7)
The most frequently used containers in air transport
Any questions?
Our teams in DSV Air & Sea are ready for you.