Protect your goods against the unforeseen
Fragile and high value goods can be some of the most important items you'll ever need to ship – they require more than just special care and attention. High Value Goods are extra secure during every moment of the logistic process, from pick-up to delivery. We care for your highly valuable goods because we have only done our job once your product is delivered in a safe and secure way.
High Value Cargo is one of the supply chain products developed by DSV Road specifically for high value goods. DSV High Value Cargo provides security focused processes, real time visibility and proactive intervention within the supply chain. For customers looking for maximum risk reduction, integrated visibility and service excellence, High Value Cargo is a real competitive advantage.
according to tapa
A high level of cargo security is needed
Cargo crime incidents are rising year over year all across EMEA region to a maximum in 2020. Theft from vehicles is the major cargo crime incident, mostly on unsecured parkings.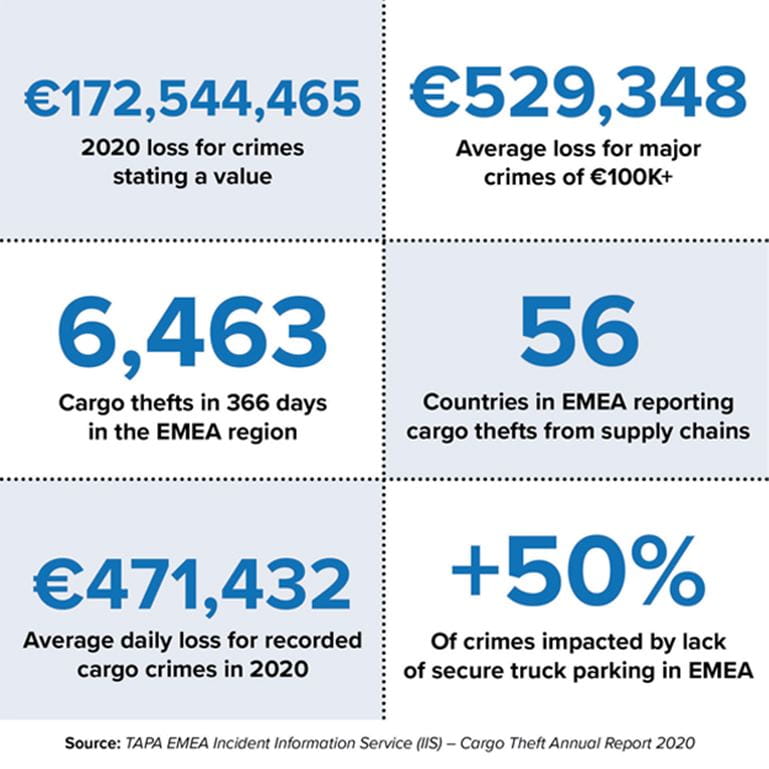 Our difference is maximum security
DSV has specifically chosen to offer High Value Cargo as one of our own services to you. Together with carefully selected and screened subcontractors for this specific service, we can increase all levels of security to the maximum. Based on your needs we offer our expertise and solutions with our own GPS-equipped DSV trailers and our highly educated and screened teams.
Your advantage on this results in the usage of our strong European DSV network, carefully screened parking locations, DSV Cargo Insurance, control towers staffed by DSV and in case something might go wrong, our own incident investigation. DSV offers a safe TAPA-certified logistics solution across the whole of Europe to clients for whom a fully controlled process and time-to-market are essential. Transport is executed with TAPA-TSR1, 2 or 3 certified vehicles, movements are monitored 24/7, and geo-fencing is possible. All is done in accordance with national and European regulatory authorities.
Our core is total security in all elements
The following core elements deliver total security for your high value goods in order to give you piece of mind from pick-up to delivery:
Strong DSV network with European coverage, screened and trained drivers, TAPA TSR1, 2 and 3 certified fleet and FSR-compliant cross-dock, customs and own equipment center. All parking locations are thoroughly screened and audited as well as intensive route assessments and instructions to our drivers during the trip.
Our state of the art box trailers with electronic door alarms and door locks, panic button in the cabin, engine immobilizer, driver's app and our optional double driver concept. All trucks and trailers are equipped with GPS guided by our 24/7 High Value Cargo control towers. Based on two-way communication and geo fencing, every 5 minutes a status interval update is provided.
To remain secure today and tomorrow, we provide our carefully screened teams and drivers constantly inhouse training by TAPA trained Authorized Auditors. Our colleagues need to follow-up strict operational processes based on Group Security Policy and TAPA regulations which are audited by TAPA on a regular basis.
Our offer based on security levels
or ask us for a tailor-made proposal

HVC Standard

TAPA TSR 3 certified equipment

Identified Parking

GPS on truck

Screening & training staff

HVC Advanced

HVC Standard +

TAPA TSR 2 certified equipment

Route Risk Assessment

Secured Parking

Screening & training drivers

HVC premium

HVC Advanced +

TAPA TSR1 certified equipment

24/7 Monitoring by Alarm Monitoring Center

GPS on truck & trailer

Geo fencing
Any questions?
Our teams in DSV Road are ready for you.