Low water levels in the Rhine River: what do you need to consider?
The river is currently experiencing an extreme drop in water level because of a very long dry spell. This has a major impact on barge transport via this river.
08/09/2022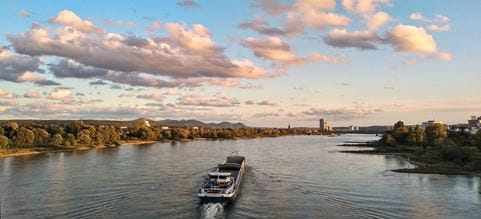 For weeks now, the low water level of the Rhine has been causing considerable problems for supply chains, particularly in Europe. Barges are forced to operate at only 20-30% of their capacity and the water level may drop even further.
Rhine River
The river flows from various sources from Switzerland through Germany and discharges into the North Sea near the port of Rotterdam in the Netherlands. For decades, the river Rhine has been of vital importance for the transport of goods and materials from, for example, the port of Rotterdam to the European hinterland.
Further drop in water level
In August, the water level had dropped to 47 cm, the lowest level in four years, before rising again to 128 cm. According to the latest forecasts, the water level could drop even further, resulting in the complete shutdown of barge traffic. As a result of that, barge operators are not able to fully rule out the possibility of a complete stand still of barge traffic soon.
With water levels dropping below 50 cm, the inland shipping companies have to charter additional vessels to handle the large volumes of freight, which causes the price of inland vessels to rise dramatically. This is reason enough for many inland shipping companies to charge extra surcharges for low water.
Alternatives through DSV
Although the consequences of a low water level on the Rhine will be felt for weeks, DSV can still offer a wide range of alternative transport methods. DSV will do everything in its power to keep your cargo moving and will keep you proactively informed of the status of your shipment(s).

For questions about your current shipments or possible alternative routes, please contact your regular contacts within DSV.
Any questions?
Contact us for advice on the right sea freight service for your needs.