DSV Air & Sea La Chaux-de-Fonds announces exciting sponsoring partnership with Swiss League hockey club HCC La Chaux-de-Fonds
The new sponsoring partnership was celebrated with a 5-0 victory against the Bellinzona Rockets on October 31 in the stadium Patinoire des Mélèzes in La Chaux-de-Fonds.
15/11/2023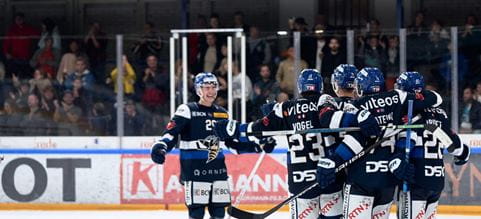 DSV Air & Sea SA La Chaux-de-Fonds is thrilled to announce a dynamic new partnership with the regional hockey club, HCC La Chaux-de-Fonds, who are currently competing in the Swiss League. The three-year sponsorship was kicked off with a memorable visit from the DSV Air & Sea country management team on October 31, where they were warmly welcomed by the club president, Olivier Calame, before immersing themselves in the vibrant hockey culture, which has a long tradition in Switzerland and La Chaux-de-Fonds in particular. The visit included an exclusive tour of the historic hockey stadium Patinoire des Mélèzes, behind-the-scenes access and meeting with the sports management team around Sports Director, Loïc Burkhalter and trainer Louis Matte. The evening culminated in witnessing HCC La Chaux-de-Fonds' impressive 5-0 victory against the Bellinzona Rockets. DSV is proud to support a team currently in the top three of the Swiss League, demonstrating exceptional performance and sportsmanship. This partnership aligns with our commitment to strengthening local ties and visibility in the La Chaux-de-Fonds region.
The collaboration with HCC La Chaux-de-Fonds is a testament to DSV's commitment to community engagement and the support of local cultural traditions. Although a global logistics leader, DSV follows a decentralized approach and recognizes the importance of fostering strong local connections. The aim of this sponsorship is not only to support a successful hockey club with a long-standing tradition but also to enhance DSV's visibility and presence in the La Chaux-de-Fonds community. By sponsoring the buses of the «HCC academy - La Chaux-de-Fonds», DSV is also contributing to the development of young talents and thus promoting the ice hockey sports for future generations. DSV looks forward to a fruitful partnership, celebrating the achievements of HCC La Chaux-de-Fonds and contributing to the continuing excitement of hockey in the Swiss League for the following seasons.
For further information and press enquiries please contact:
DSV Air & Sea SA La Chaux-de-Fonds
Contact: Valérie Ipek
Telephone: +41 32 755 06 01
Email: info.lachauxdefonds@ch.dsv.com
HCC La Chaux-de-Fonds
Telephone : +41 32 910 22 55
Email : office@hccnet.ch
About DSV – Global Transport and Logistics
At DSV, we keep supply chains flowing in a world of change. We provide and manage supply chain solutions for thousands of companies every day – from the small family-run business to the large global corporation. Our reach is global, yet our presence is local and close to our customers. More than 75,000 employees in over 80 countries work passionately to deliver great customer experiences and high-quality services. We aspire to lead the way towards a more sustainable future for our industry and are committed to trading on nature's terms.

DSV is a dynamic organisation that fosters inclusivity and diversity. We conduct our business with integrity, respecting different cultures and the dignity and rights of individuals.
Visit dsv.com and follow us on LinkedIn, Facebook and Twitter.
About HCC La Chaux-de-Fonds
HCC La Chaux-de-Fonds is a Swiss professional hockey club that was founded in 1919 and is currently playing in the Swiss League, the second highest ice hockey league in Switzerland. You can find more information about the club, their upcoming games and results here:
https://www.hccnet.ch/
Any questions?
Our experts are ready to help. Get in touch and we'll find the solution you need.