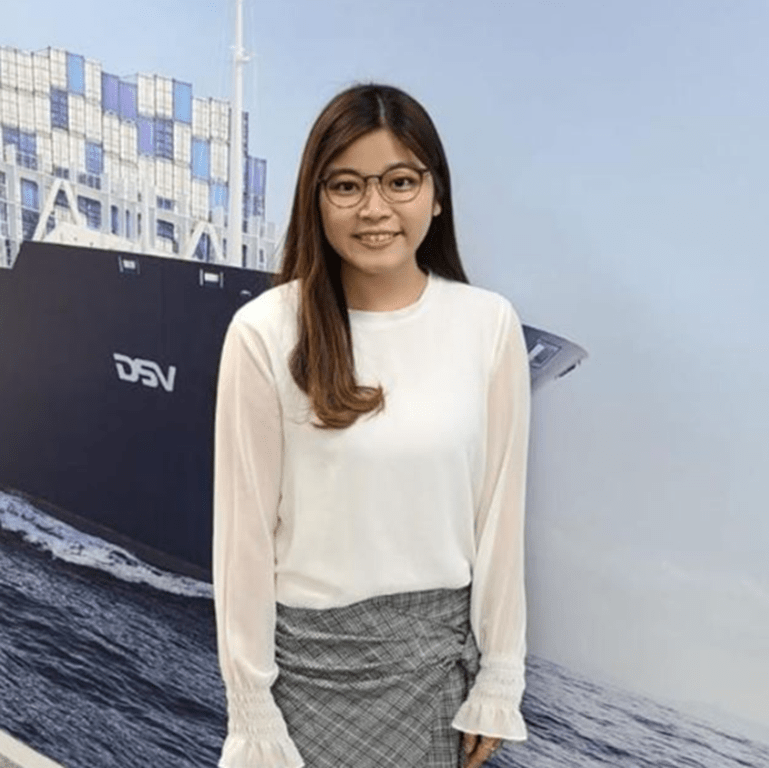 Hazel Wong
Freight Forwarder, Air & Sea - Hong Kong
As a freight forwarder at DSV in Hong Kong, Hazel plays an important part of keeping supply chains flowing for the key accounts of the Sea Export department.
Prior to her current role, Hazel worked with import of sea freight in Panalpina, a company that was acquired by DSV in 2019. In the integration, Hazel changed team and job, a big change early in her professional life.  She accounts: 
"I was a bit nervous. This was my first job out of university, and I didn't have much experience to draw on when the acquisition happened – and now I had to learn a completely new role as well as new systems and ways of working." 
"But DSV had complete trust in my abilities from the beginning, and have only encouraged and supported me," highlights Hazel, who has now grown confident enough that she also acts as a buddy to new trainees and helps them get a good start to life at DSV. 
"I get to pass on some of the things I continuously learn and which grow my understanding of DSV, both of the business we conduct and of the company as a major player in the industry", says Hazel and goes on to talk more about continuous learning on the job:
"I learn on the job from my colleagues and as I gain more experience, but I also attend courses that enable me to provide a better service for our customers in general, like a seminar on transport of dangerous goods".  
Focus on the whole person 
Working at DSV is about much more than job performance. Hazel participates in a series of social activities arranged by the local office such as yoga classes, craft workshops and holiday celebration get-togethers. 
"My job isn't all about performance. I'm a social person, and I really enjoy getting to connect with people outside my department at the different activities. It's recreational and it has a positive effect on the everyday work environment, but above all, it makes me feel that DSV cares about the whole person and not just the hours we put in", Hazel concludes and smiles. 
Do you want to work for DSV?
Please check for vacancies.