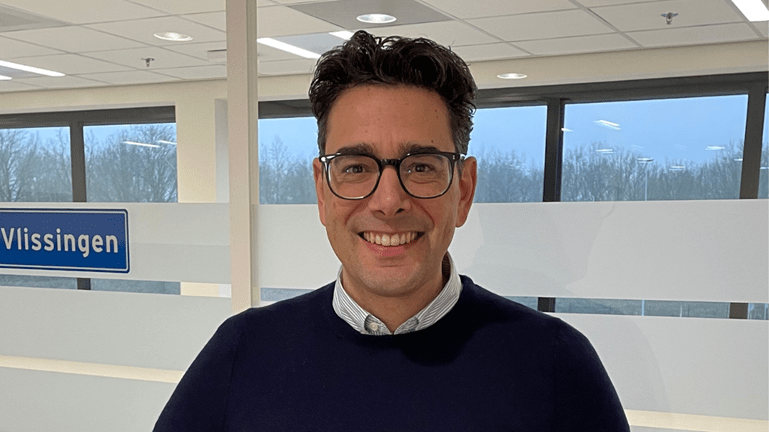 Piet Verhagen
Global Account Director, Global Commercial Organisation - Netherlands
From the beginning of Piet's career, he knew in which direction he wanted to go. Through his logistics studies as well as his first full-time position as a management trainee in a Dutch trucking company, he laid the foundation for his later career in the transport and logistics industry. When Piet joined DSV in 2013 in the role as Global Account Manager, what first attracted him to DSV was the possibility for working in an international environment.
"Coming from a smaller company, the scale and international aspect of DSV was what first got me interested. Previously, I had lived and worked abroad, so the opportunity to work with colleagues and customers from many different countries was definitely attractive."
While account management continues to be at the core of Piet's work, his role has developed concurrently with the growth of the organisation and through various opportunities for personal development. He now holds a position as Global Account Director and recently celebrated his ten-year anniversary with DSV.
Autonomy and complexity in an international setting
From the very beginning of his time with DSV, Piet got to feel the entrepreneurial and autonomous culture first-hand. To this day, it continues to be one of the things that he particularly values in his job:
"Through the years, there has been a lot of 'learning by doing', which has been very educational and exciting to me. As an employee at DSV, you are quite free to perform your tasks in the way you deem it appropriate – of course within a certain framework and together with your colleagues. I like this trust and freedom with responsibility."
Another thing that Piet values in his job is that every day is different, and this is a significant source of motivation for him. He draws a parallel to a well-known board game:
"I like to imagine that I have a number of different chess boards at the table. I play chess on all boards simultaneously, but with different people. At some point, one of the players – a customer perhaps – needs my focus. Then, suddenly another customer in another part of the world needs my attention and I have to switch focus and chess board. I like this unpredictable and spontaneous way of working."
Building strong relationships
In his work, Piet places a strong emphasis on building long-term and strong relationships to foster cooperation, both with colleagues and with customers.
"Once you have built a strong relationship, it eases the process of having a discussion and communicating with everyone inside and outside the organisation," Piet says and continues:
"To be able to offer the best solution for the customer, it is a great benefit that I know the customer well – and the trust needs to be mutual, so the customer wants to stay and develop its relationship with us. At the same time, by having a good collaboration with my colleagues, we can provide and tailor the best possible solutions for the customer."
Piet's enthusiasm for nurturing the relationships internally and collaborating across countries, departments and teams is what keeps him in DSV, just as the development opportunities do:
"I know that if I want to do something different, I can do it within DSV. The most important aspect for me in my daily working life is that I bring value to DSV and that I develop myself. Thinking back on the last ten years, I am confident that my role can develop in several directions throughout the next ten years too."
Do you want to work for DSV?
Please check for vacancies.