What is the difference between Demurrage and Detention?
Demurrage costs are incurred at the terminal of the respective origin or destination sea port, if the container is not removed from the terminal within the agreed demurrage free time. The costs are usually charged by the ocean carrier for account of the cargo as per the Master Bill of Lading. The amount of this charges vary by ocean carrier, port and terminal and can be substantial. It is usually between $75 and $200 per day per standard container. In addition, a storage fee is often charged, which also increases the longer the container stands in the terminal area.
Detention or Per Diem costs are so-called container rental costs. They are incurred if the container is not returned to the carrier defined location within the agreed detention free time. Costs will be charged by the shipping line. It is due for each day the container is outside of the carrier defined location after the contractually agreed detention-free time has expired. As a short-term solution, it may initially seem attractive to store goods in containers. In fact, however, the detention costs may be higher than for ordinary warehousing due to the detention incurred. Fortunately, there are solutions available that can be used to reduce or even avoid high fees when warehouses are at full capacity or closed.
Why do shipping companies charge these costs?
Primarily, demurrage charges are invoiced to avoid long standing units at sea port terminals to reduce Port Congestion while detention charges are invoiced to speed up the turn-around time of containers.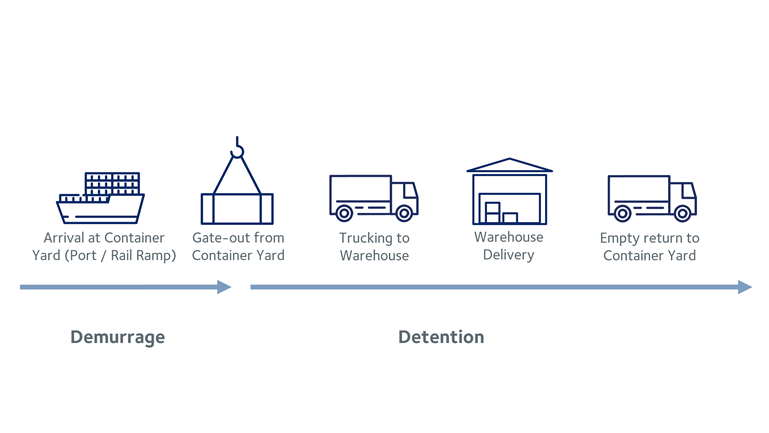 How can you reduce Demurrage & Detention costs?
It pays off to know exactly how to keep such additional costs and fees as low as possible. DSV can help you in the following areas:
Always pay attention to the amount of demurrage and detention free time required to avoid costly surprises. DSV can help you to find the right mix.
Secure storage facilities outside of the terminal facility or find additional storage space. Since it is less expensive to store cargo outside of ports, we can help you find alternative and more cost-effective storage options.
Use slower sea freight services to optimize demurrage and/or detention costs within your supply chain.
Plan capacities and pick-up/deliveries when storage space is scarce. Contacting us early, two weeks before the expected delivery date (ETD), leaves more time for planning.
Accurate and transparent information about arrival times and container availability helps avoid high demurrage and detention charges. Rely on technology and service models like myDSV that make it easy to track your shipment in transit 24/7.
We at DSV understand what it takes to optimize your supply chain.

For more information on minimizing demurrage and detention charges, please contact our sea freight specialists.
Any questions?
Contact us for advice on the right sea freight service for your needs.