DSV wins Climate Strategy Award: "Frontrunner in the industry"
DSV is awarded this year's Climate Strategy Award, which was personally handed over to Group CEO, Jens Bjørn Andersen, at a ceremony in Copenhagen Wednesday. The award is given to a Danish company that acts strategically and ambitiously and distinguishes itself when actively working with climate change.
9/15/2021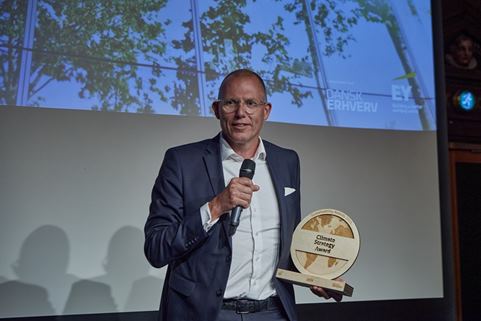 Wednesday afternoon, at a ceremony in Copenhagen hosted by EY in Denmark and the Danish Chamber of Commerce, DSV was announced the winner of the Danish Climate Strategy Award.

The Climate Strategy Award is one of three prizes presented on the day and is awarded to a company whose 'strategy includes particularly ambitious goals and actions to reduce the company's greenhouse gas emissions, or which contributes particularly to reducing society's greenhouse gas emissions through its business model'.

Jens Bjørn Andersen, Group CEO of DSV was handed the award personally on the stage at the event Wednesday evening, and he says:

"It is an honour for DSV and for me personally to receive the Climate Strategy Award because it acknowledges our business-anchored sustainability strategy, our ambitious science-based targets and the actions we have initiated to reduce CO2 emissions. At DSV, we work strategically with sustainability and this award is a testament to the massive efforts carried out by the DSV employees."

"Today, we can be proud of this prize and our accomplishments. But it's important that we already by tomorrow convert this to motivation for continuing our journey with the aspiration to do even more to battle the paramount global climate challenge going forward."

An industry frontrunner
As part of the motivation for the award, the jury stated that DSV is a frontrunner and a role model on sustainability in the industry, among other things backed by being one of the very first companies with approved science-based targets for greenhouse gas emission reductions.

Additionally, the jury highlights that they wanted to reward DSV for taking on great responsibility, for setting up ambitious targets on both scope 1, 2 and 3 and for acting upon these with global initiatives.

Each company considered in this category has gone through a detailed pre-qualification process focusing on how the company differs from other companies when working with the climate. This was followed by questionnaires to senior management and an auditing session with an EY auditor before all material was handed to the jury.

The winner of the Climate Strategy Award is decided upon by a diverse jury consisting of well-esteemed political, business, university and NGO representatives.

Climate Strategy Awards criteria
The following criteria were used for the jury's evaluation of businesses in the category Climate Strategy Award:
Are the company's targets for CO2 reduction ambitious and actively addressing the company's biggest emissions?
Is the company – within its industry – considered a frontrunner and a trendsetter on climate change adaptation?
Has the company initiated key concrete actions to reach its climate targets?
Find out more
Read more about Corporate responsibility in DSV here.

Contacts
Media: Maiken Riise Andersen, tel. +45 43 20 30 74, maiken.r.andersen@dsv.com