DSV delivers new level of reporting and transparency in 2021 sustainability report
The 2021 sustainability report outlines progress and achievements across DSV's environment, social and governance initiatives (ESG).
2/14/2022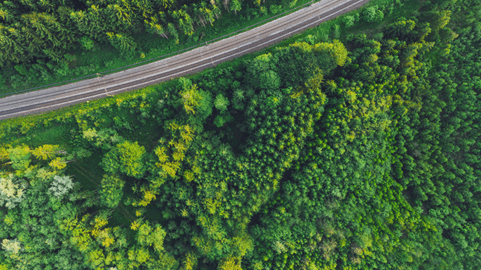 DSV released "Leading the way for a sustainable future," an in-depth report that outlines the company's commitment and contribution to ESG across the 90+ countries where it operates.
This comprehensive report outlines DSV's environment, social and governance (ESG) initiatives and is the most detailed to date. For the first time, DSV received external assurance, underlining the integrity of the data. Reporting practices have also been aligned with recommendations from the Task Force on Climate-related Financial Disclosures (TCFD) that assesses the impact of climate change on DSV's business and provides an overview of key climate-related risks and opportunities. This was implemented in conjunction with the Sustainability Standards Board (SASB), which facilitates detailed disclosure tailored to DSV's investors.
As well as complying with Global Reporting Initiative (GRI) standards, DSV also attained GRI approval for the report. This compliance with GRI was key to enable DSV to gain the required assurance. GRI is an independent international organisation that is the world's most widely used standard for sustainability reporting.
"DSV's sustainability ambitions have continued to grow over recent years, and the scale of our business demands that we are more active in driving the sustainability agenda within our industry which we aim to do. I am delighted at the important steps that we have taken and believe that our 2021 report illustrates the important role that sustainability plays within DSV," says Jens Bjørn Andersen, Group CEO, DSV A/S, and continues:
"At DSV we are guided by our purpose, which is to ensure that we keep supply chains flowing in a world of change, enabling sustainable growth for DSV and our stakeholders and reducing the environmental footprint of our operations."
The Executive Vice President of Group Compliance at DSV, Martin Andreasen, is pleased with the comprehensive 2021 sustainability report and underlines the importance of the data integrity and accuracy:
"I am proud of the high level of reporting that we have achieved. In 2021, we have implemented a range of new frameworks, standards and external assurances to enhance our report and provide stakeholders with extensive disclosure, reliability and data accuracy. This has been achieved whilst continuing to raise our ambitions and develop our sustainability programmes within the organisation. I am pleased with the progress that we have made across all areas of sustainability and believe that we have set a new benchmark that we can continue to build upon."
Highlights in 2021
One of the many highlights during 2021 was the launch of Green Logistics. This is an ambitious set of green solutions ranging from CO2 reporting and strategic supply chain optimisation to emission compensation and sustainable fuel offerings. Each solution is designed to reduce DSV's customers' emissions and DSV's scope 3 emissions for subcontracted transport.
In addition to Green Logistics, DSV also introduced the global Diversity and Inclusion Policy. The policy formalises the belief that employees should have the possibility to realise their potential, regardless of their different individual backgrounds. This was launched in conjunction with an e-learning programme on diversity and inclusion that was rolled out globally and completed by managers and HR staff.
To read more about the 2021 sustainability achievements, read the sustainability report here.