Air and sea freight implications due to Shanghai city-wide lockdown
Find below an overview of the current impact of the Shanghai lockdown on operations in China
4/4/2022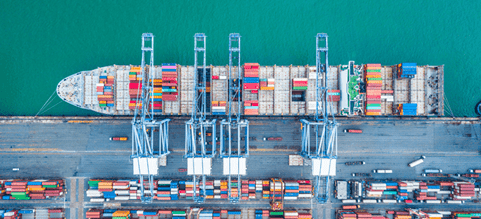 At the end of March, the city of Shanghai reported its highest number of COVID-19 cases since beginning of the pandemic. As a consequence of this, the local authorities have implemented a city-wide lockdown. All offices, shops and public transportation in Shanghai are therefore closed, and residents are to remain inside their homes.

DSV expects that the Shanghai lockdown will have a significant impact on the logistics industry. Please find below an overview of current operational challenges.
Air freight export
Operations at Shanghai Pudong International Airport (PVG) are heavily impacted, as very few special licenses are granted for trucks to enter the PVG area or to deliver cargo from export warehouses to the terminal. Consequently, a lot of flights are being cancelled, and air freight needs to be routed via alternative airports.

At DSV, we are fully utilising capacities from our charter network and commercial flights out of Zhengzhou Xinzheng International Airport (CGO) to Europe and USA. Overall operations via CGO are currently working well.
Air freight import
The situation within air freight import is similar to that of export.

Due to current trucking restrictions, no cargo can be released or delivered from PVG import warehouses to their final destinations. To avoid an overflow of the warehouses in PVG,
DSV recommends moving import cargo via CGO instead of PVG for the time being.

Our air freight import teams are ready to support all affected customers on this and can align with consignees to find the best way to import cargo into China.
Sea freight export
FCL (full-container-load) trucking services are currently possible as long as drivers comply with the required procedures by providing a valid negative COVID test, and full container operations are largely not affected by the current lockdown. However, some drivers are in lockdown, so available capacities might be constrained. Electronic customs clearance remains possible.

LCL (less-than-container-load) shipments at Shanghai ports are currently suspended, as all warehouses in the Yangshan port area remain closed and roadblocks prevent LTL (less-than-truckload) trucks from other provinces to enter Shanghai. Instead, LCL shipments can be handled by surrounding DSV offices in Ningbo, Suzhou or Nanjing, and our Shanghai team will connect customers to the best branch options.
Sea freight import
Similar to the situation in sea freight exports, the import process for FCL containers is largely operational, while container freight station (CFS) facilities for deconsolidation are currently closed.
Contact us for further assistance
DSV is closely monitoring the situation and striving to help all of our customers navigate the challenges with feasible alternative solutions.
As a customer, you can communicate with your respective DSV branches as per usual, and our operations will coordinate the cargo routing accordingly.
Any questions?
Our experts are ready to help. Get in touch and we'll find the solution you need.