Head of Shanghai Government visits DSV
On 22 June, Mr. Li Qiang, Head of Shanghai Government and Wang Lan, Head of Changning District, visited DSV's Shanghai office. The visit was part of a broader campaign to prevent the epidemic, stabilise the economy and ensure continued high safety standards in Shanghai. The visit was an opportunity for DSV to give an in-depth overview of our business operations, as well as to provide our insights and suggestions.
6/30/2022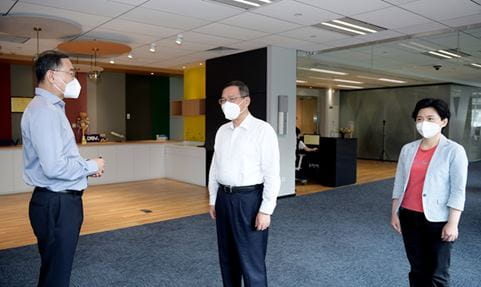 DSV was amongst Shanghai's first group of white-listed global trade companies to resume work after the lockdown. Despite the challenges during this period, DSV dedicated tremendous efforts and resources to keep supply chains flowing, especially for key industries. In order to ease the resumption of operations, DSV also implemented strict epidemic prevention measures and has gradually been able to return back to pre-pandemic levels. In response to the company's efforts, Mr. Li Qiang expressed his appreciation of DSV's confidence in Shanghai's economic development and its dedication in supporting the city's epidemic control. In his briefing session, Mr. Li Qiang and DSV representatives discussed how the company overcame the impact of the pandemic and facilitated the resumption of operations, along with future development plans.

During the meeting, Mr. Henry Cao, Vice President of DSV Air & Sea China, provided an overview of DSV, its history and growth through a continued strategy of integration. They also discussed the Shanghai municipal government's plans to promote the construction of the new "3+6" industrial system and high-end industrial clusters, and DSV's continued commitment to providing specialized logistics solutions for key industries including high-end manufacturing, new energy, biomedicine, and information technology.
"In order to capitalize on the development of Yangtze River Delta, along with the construction of the international shipping center in Shanghai, DSV has plans to increase investment in logistics infrastructure at the Yangtze Delta , and develop specialized products and services to enhance the global network between China and Europe, America and Asia Pacific countries. DSV is currently providing solutions for our global customers through weekly charter flights, regular ocean freight consolidation services in Asia-Pacific and southward extension of China Railway Express," explains Mr. Cao.
Watch the news video here (available in Chinese only)
Source: Dragon Television, Kankanews.com
Following the discussion, Mr. Li Qiang presented a detailed action plan and measures to accelerate the economic recovery of the city. He noted that Shanghai was making extraordinary efforts to coordinate its socio-economic development amid the disease containment campaign. While tightening up on epidemic prevention and control, the city is at the same time accelerating economic activities and facilitating the movement of supply chains to support organizations and resume full capacity as soon as possible.

As a closing remark, the Head of Shanghai Government stressed that he expected DSV would continue to grow, by further enhancing its capabilities and creating synergies via collaboration and innovation, which would pave the way for the company to be on top of the mid-to-high end of industrial chains as well as innovation chains, and ultimately demonstrate greater competence in facilitating the development of industrial clusters with higher competitiveness level and influence.

"Shanghai's existing supply chain infrastructure presents significant opportunities for logistics providers and we are extremely excited about the future ambitions of this city and how DSV can leverage and support these developments" said Mr. Cao.

Any questions?
Our experts are ready to help. Get in touch and we'll find the solution you need.