Our global express network. Your high priority cargo.
With our first-class Air Charter network, you receive more than just cargo space, but access to a virtual cargo airline that moves your high-value goods anywhere in the world. Our air charter service provides tailor-made solutions and guarantees global reach and vast capacity – 24 hours a day, 365 days a year.
Plus, with our hub and spoke approach, your cargo is handled by our expert teams throughout its journey - ensuring the points between your time critical, oversized and high value shipments, and where they need to be, as seamless as possible.
Request a quote
Full flexibility as standard
Full flexibility as standard. Our network is ideal for handling special cargo from pharmaceuticals and medical equipment, microchips, oversized oil and gas equipment, vehicles as well as high-value goods.
Why air charter?
Secure, reliable capacity: Countless air routes and schedules globally.

Complete control and transparency of entire journey: Especially useful for time critical, temperature controlled and high-value shipments.
Faster turnaround and reduced risk of delays: Our network uses gateways at less congested airports in terms of passenger flights and overall aircraft movements.

Manage time-critical shipments: Our expert on-board couriers (OBC) can accompany your cargo, receiving higher priority in carriage on board specific flights, and obtaining faster and more simplified customs clearance at destination.

Nowhere is too remote: Our close partnerships with reliable, smaller charter providers as well as selected, pre-approved carriers operating well-maintained aircraft, ensure smooth operations. Everywhere.

First class strategic experience: Experts dedicated to organizing ad-hoc air charter services and skilled in chartering all types of cargo aircraft can meet your requirements and manage all technical aspects of your charter flight.

Read about other air freight services

How our air charters work in APAC
The Air Charter Network uses leased and chartered aircraft to guarantee capacity. It is optimized for handling priority and express air charters, and special shipments.

DSV is positioning its charter network to support customers' needs for space with 100% controlled capacity. There are eight regular air charter services to and from APAC: Dragon Wings, Hong Kong Star, Panda Star and Pacific Rim.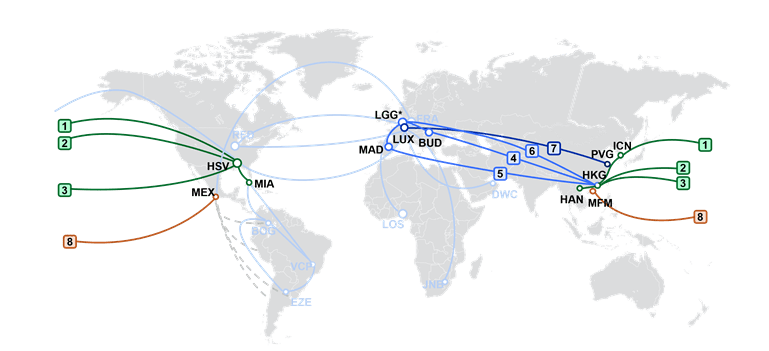 Dragon Wings offers weekly services connecting Hong Kong, Asia Pacific and USA via three different routes: 1) Hong Kong-Incheon-Huntsville-Miami, 2) Hong Kong-Huntsville-Miami and 3) Hanoi-Hong Kong-Miami. Via the first route, our chartered aircraft departs from Hong Kong every Tuesday for Incheon, Korea and then fly to Huntsville and Miami. The second route is a flight flies from Hong Kong to Huntsville and Miami every Friday while the third route connects Hanoi, Hong Kong, and Miami every Sunday.

Hong Kong Star offers services connecting Hong Kong and Europe via three different routes: 1) Hong Kong-Budapest-Liege, 2) Hong Kong-Madrid-Liege and 3) Hong Kong-Liege-Madrid. Via the first route, our chartered aircraft flies from Hong Kong every Monday for Budapest and then fly to Liege. Via the second route, our chartered aircraft flies from Hong Kong every Wednesday for Madrid and then fly to Liege. The third route is a flight departs from Hong Kong every Friday for Liege, then fly to Madrid.

All cargo arrives at Liege Airport will then be trucked to our Luxembourg gateway (LUX) for devanning and distributed to destinations in other parts of Europe. Our gateway in Luxembourg can also consolidate cargo from the rest of Europe for the return trip to Hong Kong. When cargo arrives in Hong Kong, distribution can be done by trucks to other locations in South China such as Shenzhen, Dongguan, Guangzhou and Zhongshan.

Panda Star operates a round-trip service twice a week to deliver your goods directly from Shanghai to Luxembourg on every Wednesday and Sunday. Door-to-door delivery to the final destination can be done via our trucking network.

Cargo from origins in Central and North China can be picked up by trucks and delivered to our Shanghai gateway.

Pacific Rim offers two direct departures a week from Macao to Mexico every Tuesday and Wednesday. This unique service connects Latin America with South China. Goods bound for other Latin America countries can be transhipped via Mexico by connecting flights or trucks.
Air Charter Network is ideal for handling special cargo
Helicopters

Cars

Microchips

High-value goods

High-End Fashion

and more
Our charter options
We use two main options for moving goods through its Air Charter Network: Whether you require whole aircraft or part-charters, we can make arrangement on both a scheduled and ad-hoc basis. Building on its large presence at Luxembourg Findel Airport, DSV has an agreement with some of the largest cargo-only airlines in the world, ensuring quality and reliability every step of the way.