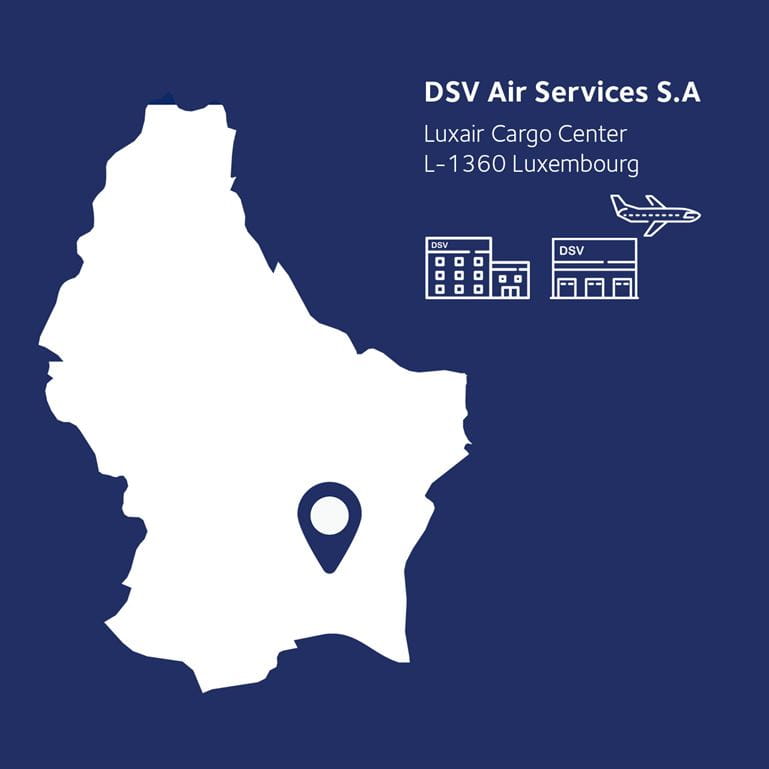 DSV located at Luxembourg Airport

Findel International Luxembourg Airport is located in Luxembourg city. As the only airport in the country, it's also considered a major cargo airport, the 5th biggest freight airport in Europe and 23rd in the world.

The airport is remarkably accessible, situated in the commune of Sandweiler, 6 kilometers from the city center. It's the headquarter of one of our main carriers, Cargolux, as one of the largest cargo-only airlines in the world.
When entering new markets, planning and knowing the trade channels is crucial. On this page, we will show you some of the most relevant information about Luxembourg, as an economic site of interest.

Luxembourg City
Luxembourg City is the capital of The Grand Duchy of Luxembourg. Despite its size, Luxembourg City is one of the most important cities in Europe, as one of the three headquarters of the European Union. With 103.973 inhabitants, Luxembourg City has become in a crucial financial and administrative center in Europe.
As well, information technology, telecommunications, transport, food industry, chemical metallurgy and engineering are other of the main sectors in the city.
DSV Office in Luxembourg
DSV is one of the main and largest transport and logistics companies in the world and it has an office in Luxembourg next to Findel International Luxembourg Airport, which brings experience either in local or global markets. Therefore, if you're looking for a reliable freight forwarder, here you can find our contact information.
Any questions?
Our experts are ready to help. Get in touch and we'll find the solution you need.