From face mask to breast cancer research
Protecting our colleagues while supporting a large group of high-risk patients
14/10/2020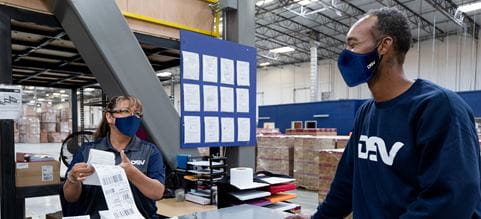 From face mask to breast cancer research
It was early April of this year when our colleague Carine Minnoye from DSV Solutions in Belgium made contact with Think Pink for the first time. Due to her responsibility within the Crisis Response Team as a result of Corona Covid-19, she was looking for personal protective equipment, including face masks. While there was an absolute scarcity of face masks at the time, a post on social media caught her attention.
Support Think Pink and buy face masks
This message came as a surprise. Protect our colleagues while we can also financially support a large group of high-risk patients by contributing to breast cancer research. A perfect match from the perspective of DSV's social responsibility. At the beginning of May, DSV placed its first order with Think Pink for Belgium, the Netherlands and Luxembourg, and Denmark, Germany and Austria have now also placed their orders. Tens of thousands of face masks in the DSV visual identity are now finding their way within Europe.
Think Pink
Think Pink is very pleased with the enormous numbers that are ordered by DSV. Heidi Vansevenant, chairman, says: "Each face mask sold contributes to the realisation of our four objectives. We are very grateful for the warm heart that DSV supports to our organization and objectives." Think Pink has four clear objectives: informing, raising awareness and financing scientific research and supporting care and aftercare projects. Think Pink achieves these objectives through three funds. For example, the Beautiful Lengths Fund helps women to purchase a wig. With a small gesture or extra support, the Think Pink Share your Care Fund wants to make life with or after breast cancer easier, in and outside breast clinics. And Think Pink's SMART Fund finances scientific research into new methods for detection, treatment and aftercare of breast cancer. Read more at www.think-pink.be/en.