DSV extends cooperation with Dow
DSV is happy to announce that the current cooperation with Dow was extended and the two companies will continue working together to meet the short- and long-term market needs through efficiency and innovation.
20/10/2021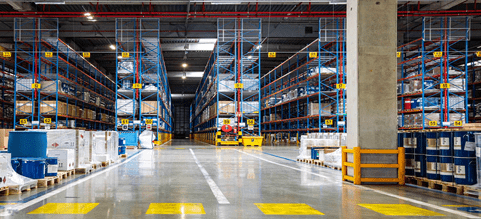 Environmental, health and safety aspects make the chemical supply chain increasingly complex and challenging. At the facility in Feluy, Belgium, DSV uses his years of expertise in the handling of chemical products to ensure service reliability and compliance to the high-performance standards of its long-term partner.
Ludo Langen, Regional Director of DSV, is very pleased that the long-term cooperation at the Feluy site can enter a new chapter:
I am convinced that with the whole Feluy team we are ready and motivated to keep supporting our customer Dow in addressing their business challenges. DSV Belgium is very pleased with this development, especially because during the time of a global crisis it is good news that economic activity can be maintained which will have a positive impact on the local employment. It is also an additional drive for us to keep improving and keep implementing changes to meet the needs of the business and to remain competitive. We also look forward to using our expertise and experience to serve potential new customers at this site.
Eric Peeters, Vice President of Sustainability for Performance Materials and Coatings, Dow says
At Dow, we are committed to bringing reliable supply of high-quality products and solutions to our customers. We are happy to continue working with DSV to ensure maximum value and positive experience for our customers, delivered in a consistent and cost-effective way.
About Dow
Dow (NYSE: DOW) combines global breadth, asset integration and scale, focused innovation and leading business positions to achieve profitable growth. The Company's ambition is to become the most innovative, customer centric, inclusive and sustainable materials science company, with a purpose to deliver a sustainable future for the world through our materials science expertise and collaboration with our partners. Dow's portfolio of plastics, industrial intermediates, coatings and silicones businesses delivers a broad range of differentiated science-based products and solutions for its customers in high-growth market segments, such as packaging, infrastructure, mobility and consumer care. Dow operates 106 manufacturing sites in 31 countries and employs approximately 35,700 people. Dow delivered sales of approximately $39 billion in 2020.

References to Dow or the Company mean Dow Inc. and its subsidiaries. For more information, please visit www.dow.com or follow @DowNewsroom on Twitter.
Any questions?
Our experts are ready to help. Get in touch and we'll find the solution you need.