Join DSV for a Liege Airport Tour on Thursday 14 or Tuesday 26 September
DSV invites you to get an introduction + tour of one of Europe's leading cargo hubs, Liege Airport. 
16/08/2023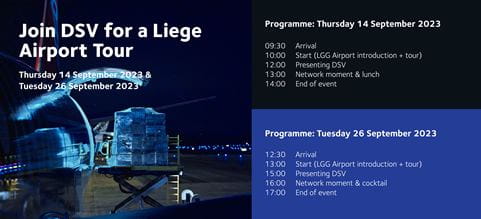 Bernard Baré, Commercial Branch Manager welcomes you at the Liege Airport where you can get a behind-the-scenes tour including a short introduction, a presentation on DSV, and a network moment to connect with other businesses. Register now by clicking on the button below.
Any questions?
Our experts are ready to help. Get in touch and we'll find the solution you need.