DSV present at Transport & Logistics 2023: 17, 18 & 19 October at Antwerp Expo
Join DSV at the highly anticipated logistics trade fair in the Benelux, taking place at Antwerp Expo on 17, 18 and 19 October. Request your meeting now. 
31/08/2023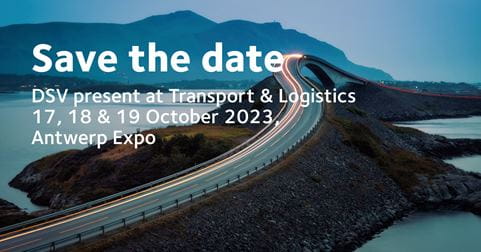 Come find us at the entrance of Hall 4 - Stand 4.026 and meet representatives from our Sales teams from all divisions: Air & Sea, Road, and Solutions. They are there for you to discuss your logistical needs, answer your questions, and to explore collaborative opportunities. Come and say hello and join us for a drink at the bar. Register here for your entrance.
Request your meeting by clicking on the button. We hope to see you there!
Practical information
17 October 2023 from 10 a.m. until 7 p.m.
18 October 2023 from 10 a.m. until 8 p.m.
19 October 2023 from 10 a.m. until 5 p.m.
Antwerp Expo - Hall 4, Stand 4.026
Jan Van Rijswijcklaan 191 - BE-2020 Antwerp
Any questions?
Our experts are ready to help. Get in touch and we'll find the solution you need.