What makes this location unique?
Introducing how our strategic locations in Belgium can add value to your business 
Next to the 35.000 m² multi-customer warehouse, DSV combines a cross-docking terminal, a road and an ocean freight office in one location, making sure that you receive the most comprehensive service offer for your business. The ideal place to be for a European or regional DC with import / export activities via one of the major gateways of Europe as well as national and international distribution.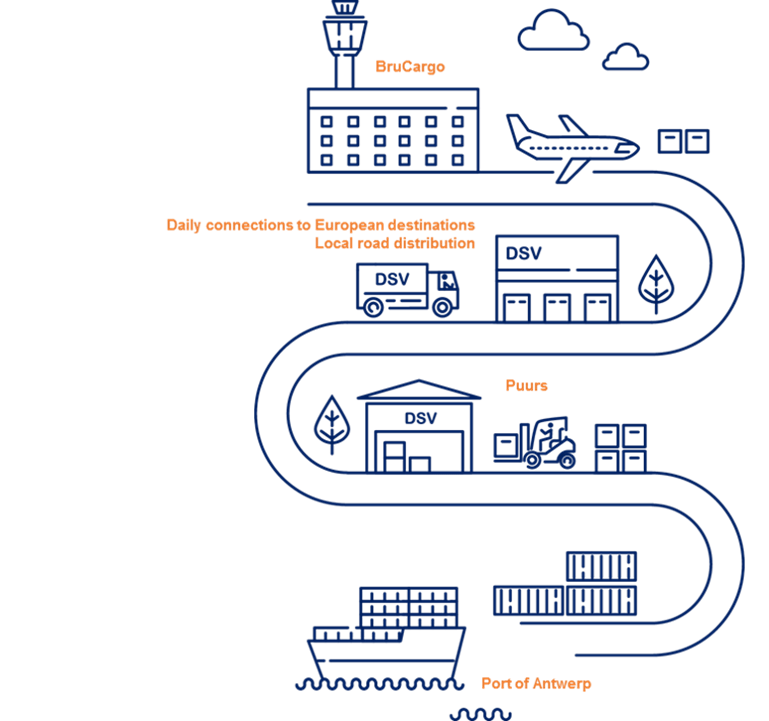 Central Location



Close to the Port of Antwerp

Antwerp-Brussels-Nivelles logistics axis accessible

Logistics flow in the area:

Road, railway & inland waterway connection to Antwerp & Brussels

Value Added Services


Experience in VAL services, such as labeling, relabeling, quality inspection, display assembling & packaging

Tailored back office services

Customized high quality solutions made for the specific requests of the customers

Dedicated mezzanine for VAS activities

Multi User Site


Local expertise:

Industrial goods
Building materials
Consumer goods
Chemicals
Automotive

Piece picking

Capitalising on different peaks and volumes

Warehouse and Transport Hub


Strategic location that allows to support clients with local and European distribution as well as with import and export focus

Transport Hub:

Cross dock :16.500 m²
+/-2000 shipments/day
Loading ramps :101
+85 "milk-rounds"
90 dedicated trailers
Fixed routes