In this high-value industry, we bring absolute accuracy and speed to your semicon transport and logistics. 
As a trusted partner, we offer tailored and flexible solutions to enhance your semiconductor supply chain and provide a competitive edge in this rapidly changing business environment. DSV understands the dynamics of the industry and the way that schedules are being pushed out or pulled in based on the latest market developments. With our know-how, reliable global network and willingness to invest in your supply chain, your business can get the support it deserves.
Construction

Spare parts

Capital equipment

Raw materials

Non-finished goods & DieWafers

Finished goods
The highest level of security
We recognise that the components, equipment and infrastructure used in the semiconductor industry represent high value for your business. For this reason, we offer a range of security measures for all semicon cargo moved within the DSV network:
White glove handling service for dedicated and sensitive cargo
Airport tarmac approved staff and ground handling service to ensure smooth airport operations and limit the risk of damages
Regular airport audits to maintain the highest standards of security and compliance in busy airports across the world
On site supervisions with DSV personnel physically on site when handling, loading and transporting high value tools and equipment – and information, including pictures, transferred live via an app to your logistics team
Trusted network of transport providers with over 50 years of experience handling your valuable cargo
Digital tracking for full visibility and a clear overview
Capital equipment
Our team has extensive experience in meeting the complex logistics demands that are involved in moving the highly sophisticated and sensitive equipment used to produce semiconductors. Furthermore, we have security measures in place to ensure your equipment arrives on time and in pristine condition.
Finished product
Once your semiconductors are produced, we can help you transport and distribute these high-value products to your customers. For visibility and security, we use digital tracking systems so you can monitor their progress to their final destination in real-time.
Warehousing and storage
When required, we also offer high-security storage of capital equipment. Our warehouse facilities are TAPA-certified, temperature-controlled and can be equipped to meet the needs of your stored goods.
Nitrogen-purging facility
Continuous monitoring of temperature, humidity and light
Trained warehouse staff
Inbound raw materials
Our technology team is highly experienced in managing the complex inbound supply chains of semiconductor manufacturing. We also know that any downtime can have enormous consequences for your business. That's why we offer fast support, reliable logistics solutions and specialist transport solutions using our trusted partners. This keeps your production lines running 24/7 to support your semiconductor business success.
Full visibility and a real-time overview
In addition, we offer a secure IT infrastructure with real-time end-to-end visibility and control tools so you can keep your semiconductor supply chain flowing reliably. This can include a control tower solution that coordinates all of your semiconductor operations providing you with one point of contact and an optimised supply chain.

Read about how we work with visibility
Fab construction
The construction of semicon fabs is gaining pace around the world as countries see technology production to be of vital interest to national security. We support your semicon fab construction by arranging transport and logistics of all the building materials and construction elements required for these highly specialised manufacturing facilities.
Investing in your semicon supply chain
In the coming years, DSV is investing 250M USD in supply chain infrastructure for the semiconductor industry in the US alone. For example, we have built warehouses across the US specifically tailored for the semiconductor industry and invested in specialized trucks for moving equipment. We are also proud to open the first new airport for the semiconductor industry in Arizona with another planned to open soon in Ohio.
Specialist infrastructure for your US semicon operations
Warehouses: Arizona, Oregon, Ohio, California and Connecticut
Airports: Arizona, Ohio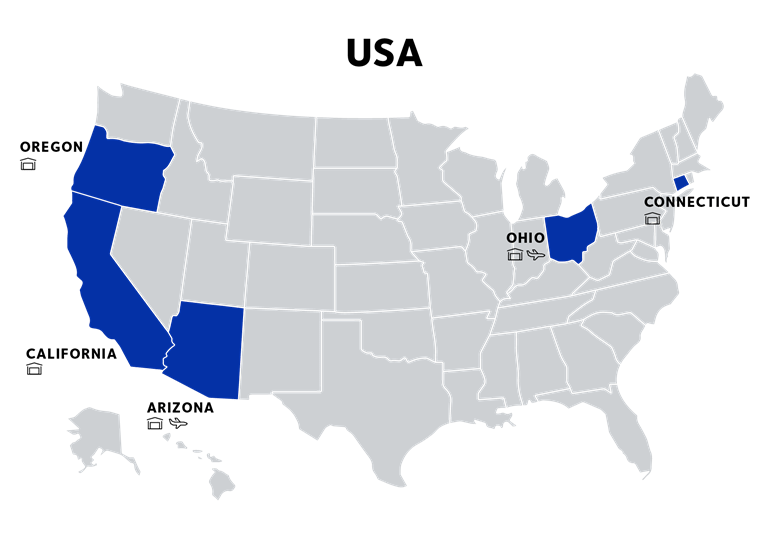 You may also be interested in
The solutions you need to keep your supply chain stocked and your customers satisfied.

The quality and accuracy you need to keep your production line running smoothly. Learn more about EMS.

DSV offers a range of transport and logistics solutions to keep your business running smoothly. Read more about our telecom logistics services.
Any questions?
Our experts are ready to help. Get in touch and we'll find the solution you need.